Top 7 Best Wide-Angle Lenses for Panasonic and Olympus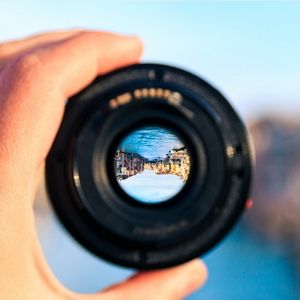 If you want to take a picture or record a video in a small space or within a short distance from your subject, you'll need a wide-angle lens.
These lenses are also what you need if you want to hold the camera and record yourself "selfie-style".
In other words, they are great for vlogging and traveling because they're usually smaller than telephoto lenses.
They can also be used with any micro four-thirds camera (more about this below), not only for Panasonic and Olympus.
With no further delay, here are our top 3 wide-angle lenses for Panasonic, Olympus, and any other Micro Four Thirds camera:
But let's not get ahead of ourselves.
You'll find below some important things you need to know before deciding which one is the best for you. Afterward, we'll give you some more choices that we've noticed are really good right now.
**Disclaimer: We are a participant in the Amazon Services LLC Associates Program, an affiliate advertising program designed to provide a means for us to earn advertising fees by advertising and linking to Amazon.com.
Micro Four Thirds Focal Length Considerations
Both Panasonic and Olympus make cameras with Micro Four-Thirds sensors, so they can share the same kind of lenses.
If you've never worked before with micro 4/3 lenses, pay attention:
If you're used to cameras from other brands like Canon or Nikon, you might be familiar with APS-C sensors.
I wanted to remind you that these two types of sensors (Micro 4/3 and APS-C) make lenses look different.
What I mean is that a 25mm lens on a Canon APS-C sensor won't have the same "zoom" as a 25mm lens on a Panasonic Micro 4/3 camera.
These sensors have different sizes (and crop factors). Micro 4/3 cameras look more "zoomed in" than APS-C.
For example, here's what you'd capture with the same focal length (let's say, 50mm) using different sensors from different sizes: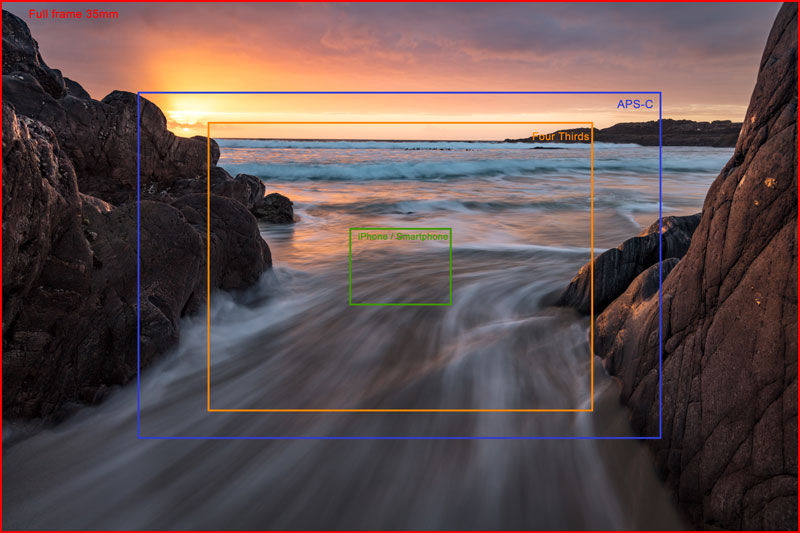 What this means is that for a lens to be considered "wide-angle" in a micro four thirds brand—aka Panasonic and Olympus—, it should be below 20mm.
While on the other hand, lenses for APS-C cameras — Canon and Nikon — can be considered wide-angle, I'd say, up to around 24mm.
Because of this, I'll recommend lenses below 20mm focal length for micro 4/3s.
How to Choose the Best Wide-Angle Lens for Your Needs
Now, let's see how to choose the right one for your needs.
What is the "f/ number" and how to choose the right one for you?

The f-number you'll see displayed on the name of each lens is the maximum aperture of each lens.The LOWER the f-number, the HIGHER the aperture.
And the higher the aperture, the more light the lens can take in.
This helps you avoid getting blurry photos when shooting in low-light conditions.
In other words, more light provides better sharpness and image quality.
So we could say:
Lower f-number = higher image quality.
Thus, get the lens with the lowest f-number you can afford.
Does it have OIS (Optical Image Stabilization)?
Most Panasonic and Olympus cameras nowadays come with in-body stabilization. So most of the time, you shouldn't need a lens with OIS for them.
However, try to make sure your model has stabilization before getting a lens without OIS or you will get shaky video and blurry stills in low-light environments.
But it's hard to find a wide-angle lens with stabilization, so expect that most models won't come with it.
Is the autofocus silent?
Some lenses have loud autofocus motors that can end up being picked up by the microphone while recording. Because of that, you'll want to stick to silent lenses.
They are also good for wildlife photography since you won't spook away any animal.
Size and weight
Zoom lenses are larger and heavier.
Getting a prime, non-zoom lens will give you more for your money and will also be easier to carry around.
For example, If you want a lens for vlogging, you need to worry about the weight of the lens. You don't want a huge lens that will fatigue your arms after 2 minutes of holding it.
Zoom or prime?
Some of the lenses listed below are not zoomable.
These are usually also the fastest and higher-quality lenses with the lowest possible price.
So, if you know that you won't be needing the zoom, try to get a non-zoom lens (also called prime lenses).
They will give you the best quality for the money:
Best Wide-Angle Prime Lenses
These lenses are compatible with all the famous Panasonic models: GH5, GH4, G95, G80, G85, G9, G7, and with any other camera that has a Micro Four Thirds sensor, even from other brands.
Panasonic LUMIX G DG SUMMILUX Lens, 15MM, F1.7 ASPH
Weight: 1.06 oz | Stabilization: No | Silent motor: Yes | Autofocus: Yes
If you can spend extra on a fast lens that will allow you to work in lower light settings and get sharper images, this should be your choice.
It's also one of the lightest lenses on this list (not the lightest, though). Definitely, one of our favorite choices.
Best for Vlogging – Olympus M.Zuiko Digital ED 12mm F2.0 Lens
Weight: 4.6 oz | Stabilization: No | Silent motor: Yes | Autofocus: Yes
My favorite focal length for vlogging is 12mm, so I love this model since it's pretty fast and sharp thanks to the f/2.0 aperture.
If you combine this lens with one of the best cameras for vlogging, I'm sure you'll be happy with the results.
The downside is that it isn't the lightest lens, but it's still fairly easy to carry around. Still, this is the highest quality lens you could get for vlogging. For a lighter option, look at the second option below.
Panasonic LUMIX G II Lens, 14mm, F2.5 ASPH
Weight: 0.32 ounces | Stabilization: No | Silent motor: Yes | Autofocus: Yes
If you're looking for the lightest lens to carry around, this is definitely it. There's just no smaller or lighter model out there, and the autofocus is fast and silent.
It's our second favorite choice for vlogging as it provides enough wide-angle to record yourself with a handheld tripod and still leaves some room for the space around you.
Olympus M.Zuiko Digital 17mm F1.8
Weight: 4.23 oz | Stabilization: No | Silent motor: Yes | Autofocus: Yes
This prime lens has an excellent balance between size, weight, and video-friendly features.
The autofocus motor is silent and fast, and it's a lot lighter than any zoom lens.
Also, be aware that you can't use the manual aperture ring on Olympus cameras; you have to set it from the camera instead.
Sigma 16mm F1.4 DC DN
Weight: 14.2 oz | Stabilization: No | Silent motor: Yes | Autofocus: Yes
This is a larger and heavier prime lens, but it's also the fastest. The f/1.4 aperture makes it extremely useful in low-light scenarios.
This is especially important in micro four thirds since they struggle a bit more in low light than larger sensors.
If you wanna shoot from behind the camera during the night, then this is probably the best prime lens for you.
Another f/1.4 wide-angle lens you might want to know about is the Panasonic Leica DG Summilux 12mm F/1.4 ASPH.
It's an excellent, fast wide-angle lens. However, most people don't go for it because it's really expensive for a lens that can't zoom. That's why we decided to feature the more affordable Sigma 16mm.
Best Zoom Wide-angle Lenses
Olympus M.Zuiko Digital ED 7-14mm F2.8
Weight: 1.18 lbs | Stabilization: No | Silent motor: Yes | Autofocus: Yes
If you want a zoom wide-angle lens, this Olympus lens should be your first option (if money is not a problem, of course).
It offers a slightly flexible focal length range for wide-angle shooting without sacrificing low-light performance since it has a constant F2.8 aperture.
It's more expensive than most because it comes with a manual focus clutch, which allows you to adjust the focus manually while you're using the autofocus.
A slightly cheaper alternative to this lens is the PANASONIC LUMIX Professional 8-18mm Camera Lens. But bear in mind that this one doesn't offer a constant f2.8 aperture.
PANASONIC LUMIX Professional 12-35mm G X VARIO II, F2.8 ASPH, Dual I.S. 2.0
Weight: 1 pound | Stabilization: Dual I.S. | Silent motor: Yes | Autofocus: Yes
If you don't need the manual clutch, you can get this constant F2.8 aperture, Dual I.S-compatible lens for a cheaper price.
This latter feature allows you to use the stabilization from the camera and the lens at the same time. This results in the best stabilization you can achieve without using a gimbal.
But beware that the Dual IS feature can only be used with compatible cameras, like the GH5 and G9.
Still, even if you don't have a Dual I.S. camera, you can use this lens flexible zoom to go from wide-angle to tele without swapping lenses for a fair price.
Conclusion
Remember that these lenses can be used on any modern camera with a Micro 4/3 lens, not only for Panasonic and Olympus.
These types of cameras usually have a really strong zoom due to their smaller sensor, so wide-angle lenses are popular.
The lenses featured in this article are between the most popular choices for this year. We also gave some different alternatives for more specific needs.
If you'd like to learn about telephoto lenses, check our article about the best lenses for vlogging. You'll find more lenses that are around 35-45mm focal length. They're not the best ones for vlogging if you're holding the camera, but they're better options if you have enough space to set the camera further away on a tripod.