30 Ways to Make Money on YouTube (No Adsense Required)
There's nothing wrong with wanting to make money from your YouTube channel.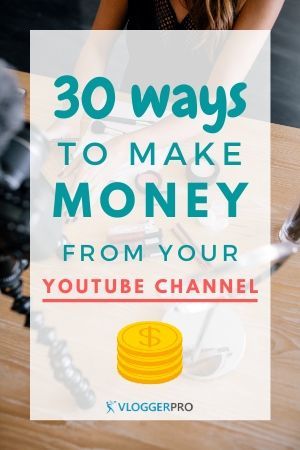 I mean, if you're going to spend hundreds of hours recording, editing, and promoting YouTube videos, you should at least get paid for it.
That' why I've compiled this list of 30+ ways to monetize your YouTube channel.
But before we start…
One thing to take into account is that no matter what method you try, you'll always need to provide value with your videos.
Making money on YouTube isn't magic. There's no secret other than making content that people find valuable.
However, it is possible to monetize a channel poorly. As a multiple online business owner (including a YouTube channel), I can say I've also failed to monetize properly for a long time.
You'd be surprised at how much money you may be leaving on the table.
Thankfully, now that you're reading this, you don't need to make the same mistake.
The 2 main ways to monetize a YouTube channel
Most of the ideas I'll teach you below are related to these two monetization methods.
1. Affiliate marketing
Affiliate marketing is when you promote someone else's product, and if you get people to buy it, you'll get a commission from the sale.
The most popular affiliate program in the world is Amazon's Associate program. With it, you can share your own affiliate links pointing to Amazon. Anything that people buy within 24 hours after clicking on your link will earn you a fee of around 1% to 4% of what they buy.
But the best affiliate programs are the ones that offer you up to 40% commissions. This is pretty common for software programs and other types of digital products.
2. Selling your own products and services
This second monetization method is how the big become HUGE.
You can start selling your own products (digital or physical) and use your YouTube channel to promote them.
If you really want to make money from YouTube, treat your channel like a business.
Don't look at YouTube as your income source. Instead, use YouTube as a marketing channel to PROMOTE your own brand and business.
That's how you can make a lot of money from YouTube without becoming famous.
Now, let's see all the ways you can apply these two ideas (and more) on YouTube.
30 ways to make money from your YouTube channel.
1 . Get partnered – Duh, this is the easiest way to make money on YouTube, but it's also the weakest monetization method for most people.
You'll need to get 1,000 subscribers and 4,000 hours of watch time in the last 12 months. Once you get there, you can apply to become a YouTube partner. You should get accepted if you've been creating original content (i.e. you didn't steal it from someone else).
After you get accepted, your videos will start displaying ads and you'll start getting paid every time someone clicks on those ads.
2 . Build an email list – Not building an email list is the number one mistake most YouTubers make.
Remember, you don't own your subscribers, YouTube does.
This means that they could take your channel away from you from one day to the other without notice. It has happened before.
The only way you can truly own your audience is by collecting their email addresses.
But the best thing about this is that it is the BEST monetization method out there.
You can send an email to all your subscribers and promote your videos and products (in a reasonable way) whenever you want.
Think about it: everybody opens their email daily! This is why this is still the most valuable marketing method even today. It's a lot better than social media.
According to multiple studies, email marketing yields around $44 back for every $1 you spend on it.
How to build your email list? Simple, you can use ConvertKit to create a free landing page and send your viewers there.
There, you can offer them something cool for free (a free checklist, a report, a free minicourse, etc) in exchange for their email. Like the one we offer here:
ConvertKit allows you to have 100 people in your email list for free. With this amount of people opening your emails every day, you should be able to make a profit from your list by using one of the methods below.
3 . Join the Amazon influencer program – This might be a wild guess, but I'm gonna say that you use a camera, maybe a mic and a PC or smartphone to upload your YouTube videos. Am I right?
Apply for the Amazon Associate influencer program and set your own Amazon store for free. You'll be able to add all of your equipment to this store. Then, create a video description template for your channel so you link to it in every video.
When someone visits your store and buys, you'll get a commission from Amazon.
4 . Livestream – One of the easiest ways to earn more money per subscriber is by doing live streams. You can do them on YouTube or a competing platform like Twitch.
In these streams, people are more willing to donate money to you in exchange for live chat features. Make sure you interact with your live chat and answer their questions. Also, encourage them to become a premium member by paying for a subscription.
5 . Review products – Another good affiliate method is to take products and review them. You can start by reviewing the products you already own. You can also try to contact brands that are open to influencers. ++
Just make sure your reviews are honest. Don't recommend products that suck. Your audience will know.
6 . Compare products – Similarly, you can take two similar products and do a comparison. Which one's better? Give your honest opinion and make sure to list the good and the bad of each one. Link to them with affiliate links.
7 . Reach brands to get you your own special discount link – You can write an email to brands that sell products or services relevant to your audience. If you tell them that you're a YouTuber, most of them will be more than happy to give you a special discount code that anybody can use.
If someone buys on their online store using your code, they'll get a unique discount and you'll get a commission from the sale.
8 . Do clothing hauls – Go on a shopping spree and show what you bought to your audience. You can try them on and provide links to their respective online store and offer discount codes for each brand.
9 . Invite your viewers to join the same services you use and trust – Do you often use a company that is relevant to your audience? Don't hesitate to tell people that you use it and that they've been good to you. Use an affiliate link to get a commission from people who start using the service.
10. Record full tutorials for products and services that have affiliate programs – This is one of the most effective ways of providing tons of free value and still earn a lot of money. You can teach people to use a piece of software (like Photoshop, Adobe Premiere, a WordPress Plugin, etc.).
Some people publish complete tutorials that go over an hour-long on YouTube and they earn tons of money from people who buy while watching the video.
11. Use a white label service and sell your own apparel or clothing – You can hire a designer on Fiverr to create for you a design that you can print on t-shirts. Use Printful to have them print, charge, and ship your clothing to your buyers. You can print the logo of your channel or create multiple designs your audience will like.
12. Launch a website – You can combine having a Youtube channel and a website. Some YouTubers create a video, then they hire a writer to make a piece of article from that video and upload it on a website.
You can then get traffic from both Google and YouTube (the two largest search engines in the world). You'll diversify your income and leverage more ways to grow.
You can start with hosting as cheap as $3.95 per month with Bluehost and use WordPress to launch your website in 20 minutes. Plus, with a website, you can provide the following services more easily.
13. Freelance – Use your YouTube videos to promote your freelancing services. You can write, translate, be someone's virtual assistant, and more. Having a website that you can use to charge your clients will be helpful.
14. Start consulting – Do you have skills that people find valuable? You can offer consulting calls and charge by the hour.
15. Start coaching – You can teach people that need your help. Use something like Zoom to hold your coaching calls and charge by the hour.
16. Start a mastermind or workshop group – Instead of charging for a 1-on-1 call, you can help multiple people at once in group calls. This is a great way to leverage your time to earn more money while helping more people.
18. Create your own online course – If you consult for a while, you'll realize that most people have very similar problems. Once you realize this, you can create an online course and charge less for it than what you charge for consulting.
The best thing is that you just create it once and keep selling it for years on an online course host like Teachable. We recommend them because they'll take care of everything from hosting your videos, locking the lessons so people don't skip them and processing payments, discount coupons, and account creation.
17. Review and recommend online courses from Clickbank – Instead of spending months creating your own online course, you can simply take one that is already done and promote it.
Clickbank is a great place to find successful online courses that can pay as much as 100% commission through your affiliate links. Just make sure you pick a good, legit product because there's a lot of crap out there.
19. Open an eCommerce website and dropship – Using websites like Alibaba or Aliexpress, you can start your online store on Shopify and dropship.
What's dropshipping? You'll sell products that are cheap on these sites for a higher price and earn a good profit from it.
A famous YouTube channel that does this extremely well is Chris Heria's THENX. He sells his branded weight vest for $149 while the same vest is available on Alibaba for $22 (wholesale price). Easy profit.
20. Offer premium content on Patreon – You can open a Patreon account and offer exclusive content for people that donate a monthly fee. This will help your most loyal fans get more from supporting you. Offer different rewards according to the amount of money they donate to you per month.
21. Offer premium content on OnlyFans – This is similar to Patreon. Usually, it's for more adult-oriented content, but you can also use it for other types of content.
22. Start a Podcast – Starting a podcast can make sense if your audience is the type that doesn't have time to watch videos. Podcasts are popular because people listen to them while driving or commuting. You can find sponsors for your podcast when you grow enough.
23. Craft things and sell them on Etsy – Are you good with your hands? You can use Etsy to sell your craft and earn a profit from it. No website required.
24. Make sponsored videos – You can reach out to brands and offer them to mention them in your video. Go to their website and look for an email related to partnerships or marketing. The larger your audience is, the more you'll be able to charge for this.
25. Sell your music – If you're a musician, you can use your YouTube channel to promote your own album or singles.
26. Create an app – Some YouTube channels can benefit a lot from creating their own app. For example, fitness channels can create an app that can help people get fit by giving them exercise routines according to their needs. You can charge a membership for more premium functions like personalized or more difficult routines that will give them more results.
27. Create a makeup brand – You can contact a makeup laboratory and start a business relationship to create your makeup brand. This is pretty common in the beauty YouTube niche.
28. Create a channel with Creative Commons clips and monetize with affiliate marketing – You can have a successful channel where you don't even speak or appear on camera. You can use clips that are uploaded on YouTube with the Creative Commons license and use them to create new videos. You can then use affiliate products relevant to your niche and earn money from it. Then, you can sell the channel for a nice profit. This is a tested method that has made some people millionaires. This video explains it well.
29. Make videos that are at least 8 minutes long – If you make videos longer than 8 minutes, YouTube will allow you to display more ads. This will only be useful if you're partnered. However, you can start making longer videos BEFORE getting partnered. Remember that once you get the partnership, all your previous videos will start showing ads.
30. Target more expensive keywords – Same as the previous one, this will take effect once you're partnered. However, if you target expensive keywords with your videos, you'll earn more money from ads. If you create videos in niches that have a lot of advertisement competition, you'll get paid more per view. Read the full explanation about niches with high CPM here.
If you enjoyed this list, you may also like this: