Top 15 YouTube Niches With High CPM (2021)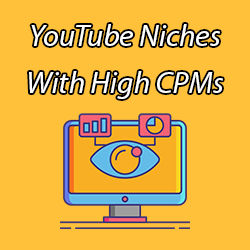 So you're probably looking to start a channel, but you want it to be profitable.
Here are the best YouTube niches with high CPM to earn more money per thousand views.
YouTube Niches With High CPM
There's no "one beats all" here. These niches all offer really high CPMs:
E-commerce
Real Estate
Insurance
Stock Market
Loans
Mortgage
Lawyer
Attorney
Credit
Software
Trading
Marketing
Website Hosting
Makeup
Fitness
Make Money
There are many more niches like these, but it's impossible to list them all here.
To understand how to find them, keep reading.
But first, you need to understand one thing:
I appreciate the fact that you don't want to waste your time putting all that effort into making videos that might not give you enough income.
However, make sure you are not doing YouTube only because of the money you can earn.
You can start different businesses that can earn you money quicker than YouTube.
YouTube takes TIME.
You have to build an audience from the ground. You have to build a relationship.
This can take months, and probably years.
But if you're interested in starting a channel because you LOVE the idea of making videos for a living, then keep reading.
Why does CPM vary so much between videos?
When you create YouTube videos (and you're a partnered YouTuber), your videos become available for advertisers to display their ads.
An advertiser has to pay a certain price each time someone watches their ad or clicks on it.
The amount they pay is determined by the amount of competition (other advertisers) that also want to show their ads on their videos.
They have to fight each other and give the highest price (like an auction) so their ads can be shown.
The more competition = the more expensive it is to show the ad.
The more expensive it is to show the ad = the more money you get as the creator of the video.
So you need to create videos that target a keyword with a lot of advertising competition.
What is a keyword? A keyword is a phrase that people type on YouTube or Google to find content recommendations.
The title of every video that you make and the words you say during the video are keywords you are directly or indirectly targeting:

For example:
A YouTube video with the title: "Best USB Mic? AKG Lyra USB Microphone Review" is targeting the following keywords:
Best USB Mic
AKG Lyra USB Microphone Review
If you go to Google Keyword Planner — this is the tool that advertisers use to plan the keywords to target with their ads — you can type these keywords in and the tool will tell you how much advertisers are paying for those keywords.
Here's the example:
How to use Google Keyword Planner to find out how much a keyword costs to advertisers
Go to the Google Keyword Planner tool.
First, sign in with your Google account.
Then, click on discover new keywords.


Type in your keyword and choose your country.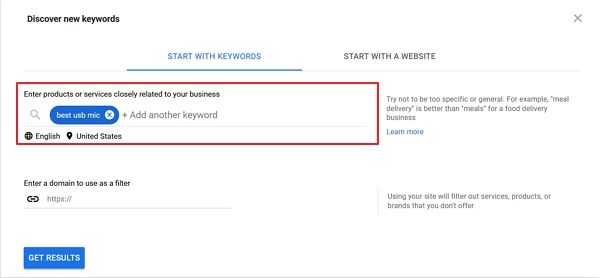 In the results, what ultimately matters to measure how much CPM you might earn from a video targeting that keyword is the top of page bid:

This amount is NOT the CPM you get per se.
This is just how much the advertiser has to pay just to display the ad once, or for one click (depending on their approach).
If we compare this to another niche that I know gets high CPM, you can see a huge difference in cost:

Best short term insurance plans = $10.30-$22.68
Best USB mic = $0.16-$0.58
"Best short term insurance plans" is way more competitive and valuable for advertisers than "Best Usb Mic".
Targeting the former with a video will give you higher CPM. You can be 100% sure about that.
For more examples of highly competitive keywords, Wordstream has compiled an awesome list with the most expensive keywords in Google Ads.
NOTE: this doesn't mean that you get around $10.30 per view or anything like that. YouTube keeps half of what your videos earn. And most views are not monetized. For a view to be monetized people have to actually watch the ad or click on it. Most views you get won't get you any money. Use this just as a sort of guide to compare which keywords are more profitable to target.
What makes a niche have higher CPM?
If you read the section above, you now understand that the higher the advertising competition, the higher the CPM you get.
But what makes a niche highly competitive for advertisers?
Basically, markets that are highly profitable for businesses.
Niches where there's a LOT of money involved.
In highly profitable markets, businesses can afford to spend a lot of money on their ads, and still make a lot of money.
These are the niches that earn real money on advertising.
For example, some of the most competitive markets out there are:
Health
Makeup
Financial
Relationship advise and dating
Technology
However, these markets are too big.
Inside them, there are some golden niches that have CRAZY high CPM. You can find these at the top of the page.
Do you need to change your channel to one of these niches?
Not necessarily.
The CPM varies per video, which means that you can create videos targeting highly competitive keywords — niches — without changing your entire channel.
Just try to make sure that your new videos are somewhat related to your channel's general niche.
You can also pivot slowly to one of these niches if it makes sense.
If your objective is making money on YouTube and live from it, it might be a good idea to approach your channel like a real business and switch to a revenue-focused strategy (that doesn't take advantage of your viewers).
Just make sure you don't stop enjoying making videos, or you won't last for long.
How to increase your YouTube income without getting higher CPM
You don't have to get a higher CPM to earn a lot of money from YouTube.
There are other ways that don't involve YouTube ad money. For example:
Affiliate Marketing
Creating your own products and selling them
How to earn money with affiliate marketing.
Get products or paid apps that your audience might like, and review them.
Give a fair, unbias review and then add an affiliate link to the product in your video description.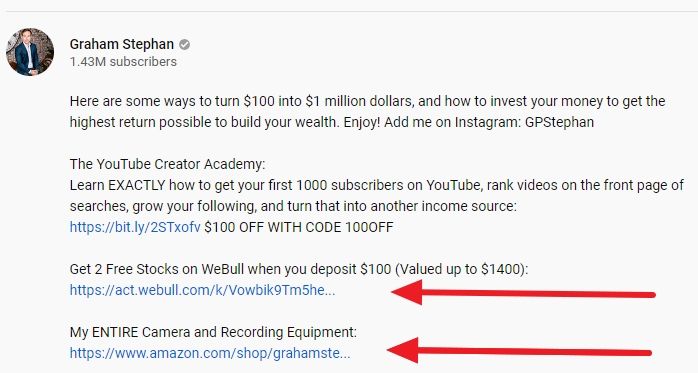 An affiliate link is a special link that can earn you money if people buy the product after clicking on it.
The most popular affiliate program in the world is Amazon Associates.
With it, you can earn from 2% to 8% of commission for every sale made on Amazon after people click your link.
But almost every brand in the world has some sort of affiliate program.
Visit their page, and look in the header or footer for an affiliate program link, like this one:
Each affiliate program varies a lot, so make sure you read the conditions before joining.
You'll have to apply for every different affiliate program. You might not get accepted in all of them at first, but most affiliate programs aren't too picky.
How to earn money with your own products
This is my favorite way of monetizing a YouTube channel.
You can build a real online business this way.
The best thing is that you don't need to do anything complicated.
Create your own digital product/service.
The only thing you need to do is solve a problem for your audience.
There are different ways you can charge to solve this problems:
Create an online course
That's one of our monetization methods here at VloggerPro, and it's one of the most popular methods online right now.
If you're good at something, you can teach them a new skill by creating an online course.
For example, you can teach people how to earn more money freelancing, to make money, how to grow a YouTube channel or Instagram account, how to paint, etc.
We use Teachable to host our online courses. It's very simple and it will take care of everything (from lesson hosting, payment and student enrollment) for you.
The great thing about this method is that you only need to create the course once, and you can keep selling it for years.
Start consulting
This is similar to creating your own online course.
The good part is that you can start right away and get paid instantly.
The bad part is that you need to be on a call and use hours of your days to be with your clients.
You can start consulting for a while to get some quick money, while you build an online course.
There are also other ways of getting more money from YouTube by providing something your most loyal fans would love to have:
Sell your own merch
Selling your own merch (apparel, clothing, coffee mugs, makeup, etc).
Huge YouTubers like Jake Paul earn most of their fortune through this method.
And it's easier than you think.
You only need to use a white-label service like Printful.
You can basically pay a designer on Upwork or Fiverr, for the designs or logos you want printed on your merch.
Then, Printful will take care of printing and shipping the apparel for you. Easy.
You'd only need a website (you could use Etsy, which is free), or you could launch your own ecommerce site.
Offer premium content to paying followers
For example, you can open an OnlyFans account and offer content that people can't get for free.
You'll usually charge around $15 per month per subscribers. It's one of the most popular monetization methods right now for content creators.
If you want more ideas to make more money on YouTube, check out this post.