Top 9 Best Vlogging Cameras with Flip Screen [2021]
As a vlogger, I'm sure you've asked yourself:
How could someone record themselves without a flip screen?
That's like taking a selfie with your phone without a front camera. Awful!
Articulating screens let you make sure everything is A-Okay while you record.
This is why I've compiled a list of the best cameras with flip screen, and have been keeping it up-to-date for the last 3 years. Check it out:
**Disclaimer: We are a participant in the Amazon Services LLC Associates Program, an affiliate advertising program designed to provide a means for us to earn advertising fees by advertising and linking to Amazon.com.
Our Favorite 3 Picks
Different Types of Flip Screens
Flip-up Screen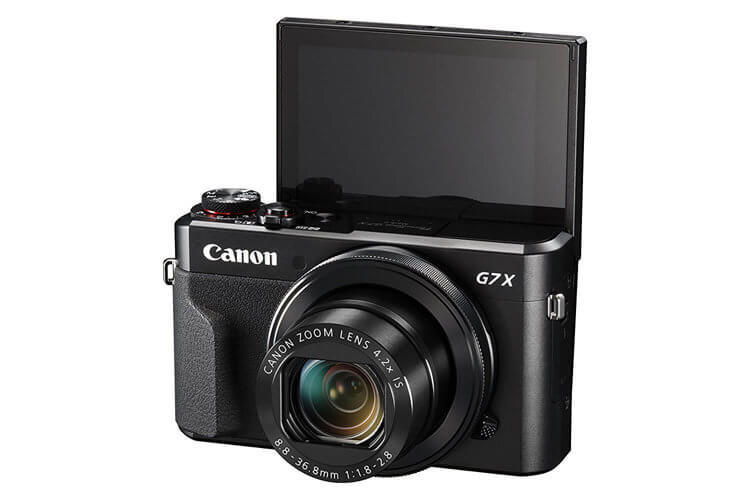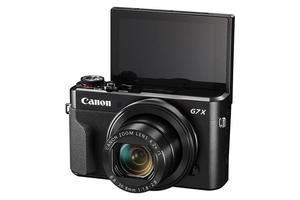 These have the disadvantage of blocking the upper side of the camera, which you could use to mount a shotgun mic.
This is especially common in Sony mirrorless cameras. They come with a flip-up screen located just behind the hot shoe mount.
This creates a problem that can be easily fixed by getting a cold shoe adapter relocation plate. It might not be difficult to fix, but it's an extra cost you have to take into account.
Flip-out screen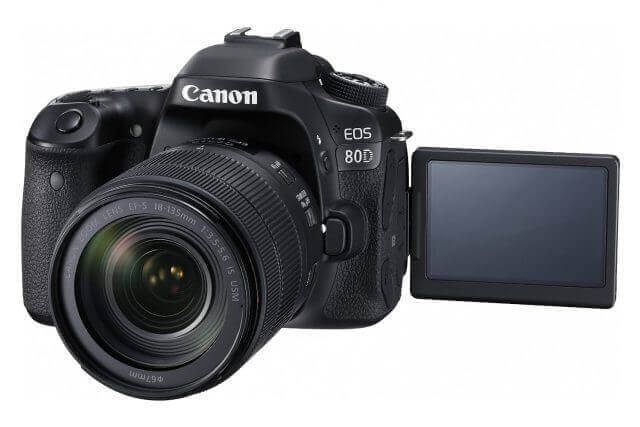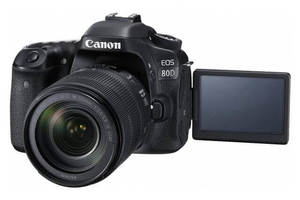 These are common in Canon DSLRs and Panasonic mirrorless cameras.
They are the best kind of flip screen because they are much more versatile than the flip-up screen.
They can be flipped to the side and offer more angles and rotate up to 270 degrees.
This gives more options than the simple up and down offered by a flip-up screen.
Flip-down Screen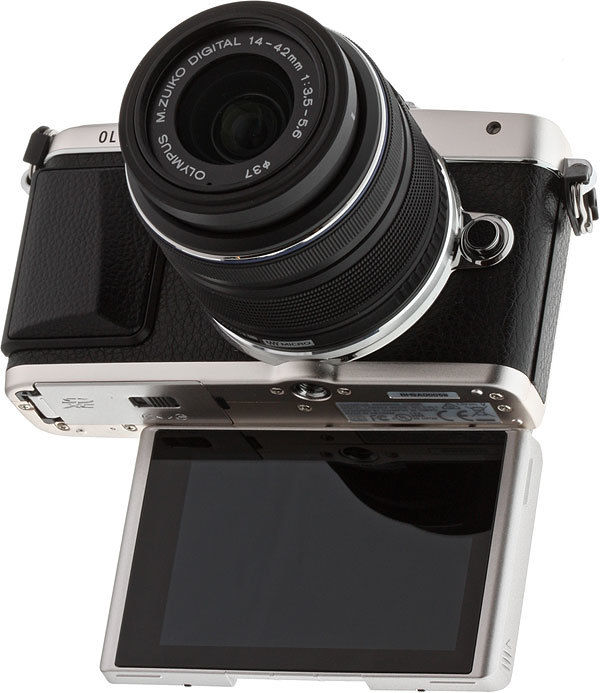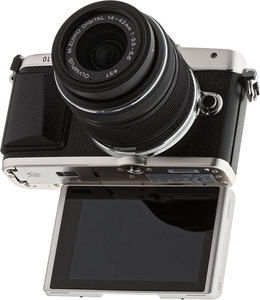 The big problem with these is that they block your tripod. You can't use them for vlogging because of this.
You will need a small tripod to hold your camera if you don't want to drop it to the ground, and it also helps with stability — plus, it helps you get the camera further away from your face so you can capture a wider frame and give people more context of your surroundings.
I see a lot of sites recommending flip-down-screen cameras for vlogging, but they're basically useless. Avoid these!
What Camera Sensor is The Best for You?
When you don't know much about cameras, this is the part that can confuse you the most. But don't worry, I'll quickly explain the advantages and disadvantages of each one.
Advantages of Larger Sensors
The biggest advantages of having a larger sensor are:
Higher quality video in low light
Higher Dynamic Range
More intense Bokeh effect
1) Higher quality video in low light
When you capture an image with a small sensor in low light your image will look noisier. Like this:
This happens because when the sensor receives low amounts of light, it needs to increase its sensibility to light. The higher the sensibility to light (ISO), the noisier the image becomes.
Since the larger sensor can capture more light due to having a larger surface, they don't need to increase their ISO as often. This means that they can achieve cleaner images in low light.
2) Higher Dynamic Range
More dynamic range will give you more details when your image is too dark or too bright. And it will give you more shades between both sides of the spectrum.
Here's a great example by HowToGeek:


3) More intense Bokeh effect
Do you know the beautiful "blurry" background effect everybody loves? That's called Bokeh effect.
This is more affected by the lens aperture, but larger sensors also give you better, more intense Bokeh effect: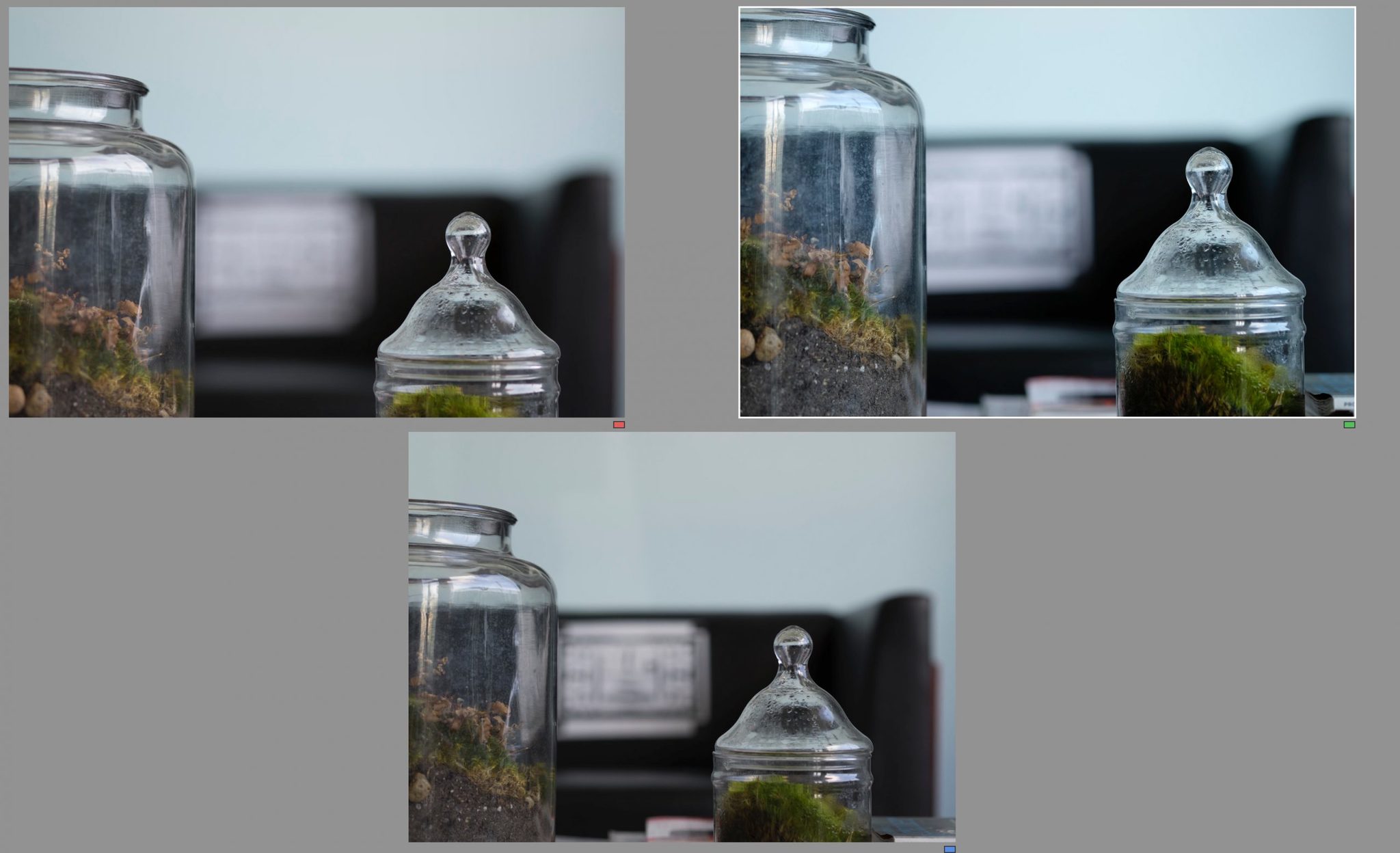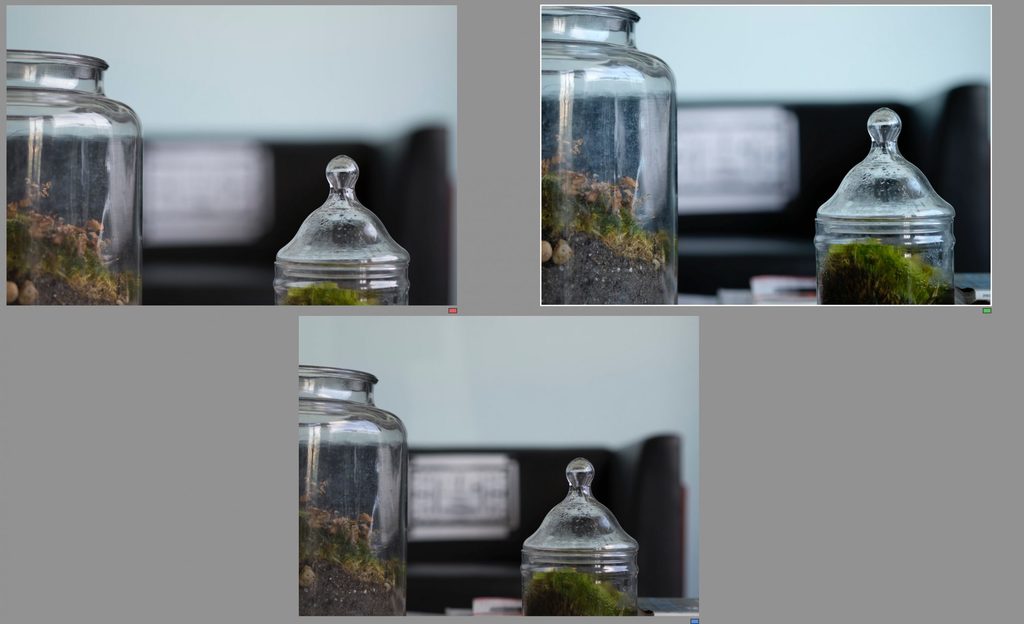 Disadvantages of Larger Sensors
Even though the advantages of a larger sensor look really good, they also come with big disadvantages:
They — and their lenses — are much more expensive.
They're a lot heavier.
This is why most vloggers will want to look away from full-frame cameras. Even though they look great on paper, they're not very comfortable for vlogging.
That's why for vlogging it's more common to go for smaller sensors.
Vloggers need a portable camera that can record well, but they don't need a super professional camera that can record inside a cave.
The 3 Main Sensor Sizes You'll Have to Choose From
There are 3 main sensor sizes. Let's explain each one from largest to smallest:
Full-Frame
This is the largest, most expensive sensor size. Most vloggers won't like to go for one of these because they're often heavier and more expensive.
If you ever want to get one, make sure you choose a Sony full-frame like the Sony A7 (no flip screen).
They are a lot smaller and lighter than other full-frame cameras.
APS-C.
These are the most chosen sensor size for beginners. They offer the perfect middle ground between Micro Four Thirds (more on this below) and Full-Frame.
They can record high-quality videos in low light while being also really small.
If you want one of these, Canon and Sony offer excellent choices for vloggers, and we'll review some of them below.
Micro Four Thirds
These cameras have technically the worst low-light performance of the three, but they make it up by including more useful features for the same — and often lower — price.
I really like these cameras because they're able to offer amazing stabilization, external mic input, fast and accurate autofocus, and cheaper but fast, high-quality lenses for a better price.
However, this size is not for everybody.
If this is the first real camera you're getting, it's probably safer for you to go for an APS-C sensor camera.
That will give you a good starting point to compare to. Later on, you can try some Micro 4/3 cameras and see if you like the trade-off between better features and a tiny bit worse low-light performance.
Bear in mind that if you're recording from home and have your own lighting kit, you won't run into low light performance problems.
Point & Shoot and Smartphone Sensor Sizes
The previous 3 sizes are for mirrorless and DSLR cameras, but point & shoots are also an option you might want to go for.
They have even smaller sensor sizes, which means they're the worst ones in low light.
If you care about my opinion, I can tell you that if you want to use a point & shoot, you should probably just get one of the latest phones and use it as a vlogging camera.
Why go through the hassle of getting a tiny small sensor camera when most new phone cameras are almost as good?
You'll notice that low-light quality suffers a lot with these small sensors, so I wouldn't recommend them if you plan to record mostly during the night.
Mirrorless, DSLR or Point & Shoot?
I personally like mirrorless cameras because they're a lot lighter and smaller, so they're great for vlogging.
Plus, the only real advantage DSLRs have nowadays is battery life. You can easily fix this by carrying a power bank with you at all times or by having extra spare batteries.
Mirrorless cameras also come with extra features that make everything a lot easier, like electronic viewfinders that offer tons of useful information for photographers.
The truth is that the camera industry is moving away from DSLR because mirrorless is becoming better at a faster pace.
And in regards to Poin& Shoot cameras, I don't like the idea of investing a few hundred in a camera that is just slightly better than a smartphone's.
But some people do like them because they don't want to have their phone available to use for something else — did you know you can also call and send TEXT messages with a smartphone? Crazy, right?
What Makes a Camera Good for Vlogging and YouTube in General?
Knowing a bit about sensor sizes and types of cameras can help you make the final decision. But what makes a great vlogging camera? These are the things we always look for.
External microphone input
People can still watch a video in 720p and be satisfied with the content. But it's really difficult to enjoy a video when you can't hear the content.
Having an external microphone input will allow you to record better audio directly to the video recording.
This makes everything so much easier than recording with a mic separately and then having to sync audio and video.
In-Body Image Stabilization (IS)
If you want to take the camera out with you and record while moving around, camera stabilization is almost a must — unless you want to make your viewers throw up.
We say almost a must because even if your camera doesn't have in-body IS, you can still get a lens with optical IS.
The problem is that this will limit the selection of lenses at your disposal. Also, lenses with OIS are more expensive.
Weight
Similarly to IS, this one doesn't matter if you want to set your camera on a tripod and record without moving.
However, it's a really big deal if you want to go out with it and record your day.
A heavy camera will tire your arm really fast and make vlogging uncomfortable.
Autofocus
There's nothing more annoying — besides realizing after 5 minutes of talking that you didn't hit the record button — than slow autofocus that keeps hunting for the right target.
Some cameras have terrible autofocus systems, especially when recording.
This is why this is one of the first things we look at when reviewing cameras for content creators.
It can truly ruin a good camera as it happened to the Canon G7X Mark III.
Slow-Motion and timelapse mode
These are, of course, not a requirement. But they're nice to have.
Timelapses allow you to make nice, smooth transitions for your vlogs.
And thanks to Casey Neistat, now every vlogger employs this technique
What Lens Should You Get With Your Camera?
The first thing you need to know is if your camera comes with in-body stabilization. If it does, you can go for a cheap lens with no optical stabilization. Even though you will get even more stabilization by getting one, you don't really need it.
And the second thing you want to look at is lens aperture. You want a fast lens.
A fast lens means that the lens's diaphragm can open wider, which will let more light in for the sensor to capture.
If you've been paying attention to this post, you already know that more light equals better image quality, especially in low light environments.
This means that a faster lens means better quality and sharper images in general. That's why a fast lens will always be more expensive.
In other words, you want the fastest lens that you can afford.
How do you know how fast a lens is?
When you're looking to purchase a lens, you get two main important pieces of information: the focal length and the aperture.
It's easy to get overwhelmed with all that info, but it's simpler than you think.
For example, let's look at the Canon M50's kit lens:
Canon EF-M 15-45mm f/3.5-6.3
The "15-45mm" is the focal length range. It indicates the range of "zoom" the lens has. From 15mm (less zoom) up to 45mm (more zoom).
The f/3.5-6.3 is the lens aperture range. It's represented by the f/ number. The lower the F/ number is, the faster the lens is.
Bear in mind that sensor size will also affect the final resulting frame. Larger sensors result in a wider frame. Another way of seeing is that smaller sensors will make the image look more "zoomed in".
For vlogging while you're holding your camera in "selfie mode", you'll need a lens with less zoom — also commonly known as a wide-angle lens.
A lens that is between 12-24mm focal length will let you hold your camera close to your face and still capture a lot of your surroundings.
If this is too complicated for you to understand — the first time I learned this I didn't get it either — you can always simply go for the kit lens the cameras come with.
They are great to test different focal lengths when you're starting. Most of them also come with stabilization.
You can find more info about getting the perfect lens for you here.
Best Canon Cameras With Flip Screen
I'll order this list by brand, but know that this doesn't mean one is better than the other.
The one you choose will depend on your needs. These are all excellent cameras.
Now, let's begin.
Best Vlogging Camera With Flip Screen: Canon EOS M50
The Good
Made for vlogging
APS-C sensor
Great price-quality relationship
The Bad
Not as pocketable as the G7X
Cropped 4k recording
Relatively short battery life
Image Quality: 4kp30 (cropped) | Sensor: APS-C | Weight: 390 g (0.86 lb)| Mic Input: Yes | Stabilization: Yes (digital)
Despite being a newcomer in the scene, the Canon EOS M50 has been getting very positive reviews from the vlogging community.
Although marketed as a beginner upgrade from phone photography and videomaking, it truly has everything to become the new best vlogging camera.
Released in March 2018, its popularity and hype stems primarily from its 4K video shooting capability, being Canon's first entry-level mirrorless camera with this desired feature.
But be warned though, the Canon EOS M50 adds an extra crop factor of 1.7x when shooting 4K on top of its 1.6x crop factor. So, you'll get a relatively smaller coverage — or frame — area in this mode.
But despite this minor hiccup, the Canon EOS M50 still proves to be a great vlogging camera for those looking for a gear upgrade from any compact camera.
It can also be a decent upgrade from the Canon G7X Mark II. After all, they have similar capacities but this mirrorless seems to offer a lot more for a slightly higher price: microphone jack, much larger sensor that achieves better results in low light and interchangeable-lens capacity.
For one, its sensor allows the camera to have a wide sensitivity range (ISO 100 to ISO 25,600). And sporting Canon's new DIGIC 8 processor, the M50 features an improved autofocus system of 143 AF points which can also be manually-controlled through its flip-out touchscreen.
Read the full review and comparison with the G7XII: Canon EOS M50
The Good
Reliable autofocus
Great lens quality for the price
Great image stabilization
Portable, small and lightweight
The Bad
Small sensor
No external mic port
There are cheaper cameras with 4k
Image Quality: 1080p60 | Sensor: 1″ BSI-CMOS Sensor (Point & Shoot) | Weight: 319g / 0.70 lb | Mic Input: No | Stabilization: Yes
The Powershot G7X Mark II has been the go-to point & shoot camera for vlogs since its release.
This is an improved version of a small camera that already looked like made for vlogging. Compared to the G7 X Mark I, this one is faster, has better performance in low light, more battery life and a new rubber grip.
I'm normally very skeptical when it comes to new versions of cameras that are already good, as I often feel like they perform almost the same and it's just an excuse from the brands to sell them at a higher price, but I was wrong with this one.
What made the G7 X great was his almost given-for-free lens. It's a fast f/1.8 24-100mm lens that can zoom out enough for you to record yourself while holding the camera and that can also zoom in enough to get rid of perspective distortion when using it at home on a tripod.
That's the main feature, but it also offers many more advantages, for example:
Its quality in low light is basically the best you could achieve with a 1' CMOS sensor camera.
It's also responsive and has a fast, accurate autofocus. Its flip screen is also a touchscreen, so you can actually change its focus point with the tip of your finger in the middle of a video.
It also comes with time-lapse recording mode, which was lacking in the first version (although it's still achievable in the older model).
The quality of this camera —especially its lens—, its reliable auto modes and its fully manual mode make it possible to record high-quality vlogs without having to carry around heavy equipment.
This version doesn't get rid of all the problems the G7 X has, although it does improve a lot its battery life. The main downside is that it still doesn't have a mic input, but that's just normal for compact cameras.
I still don't think The G7 X Mark II it's worth if you already have the G7 X because it is pretty expensive, but if you're upgrading from a cheaper camera, it's better to just go for the Mark II.
Also, know that the G7X Mark III was already released, but it was a huge disappointment. It's still better to get the Mark II.
Read the full review: Canon Powershot G7 X Mark II
The Good
Good for low light (APS-C sensor)
Great battery life
Probably the best video autofocus in this list
The Bad
Heaviest camera of the list
No image stabilization
Image Quality: 4kp30 | Sensor: APS-C | Weight: 701g / 1.55 lb | Mic Input: Yes | Stabilization: No
If you are a follower of the most important Youtube channels, you probably have noticed that many of them still use a DSLR.
Content creators like Casey Neistat and Jake Paul still seem to prefer this kind of camera to give their vlogs the most quality.
The truth is that DSLRs aren't dead yet, and there are still quite a few new models that have excellent performance for vlogger despite their size.
Between DSLRs, I believe the best one for vlogging is the Canon EOS 90D. The main reason? It has amazing autofocus for video, a flip-out screen, great battery life, and of course, an external mic port.
This year's model comes with a new sensor and processor that improved the image quality over its predecessor, the Canon EOS 80D.
Finally, Canon decided to include 4k recording in most of its new DSLR models, including the 90D.
It is also not too heavy, so it is a good option to take advantage of a DSLR without having to deal with their size disadvantage.
If you get a gorilla pod to go with it and a good 24mm lens from the huge selection Canon offers, you will certainly take a lot of advantages from this camera.
Still, I prefer something lighter to take out with me. If you're looking for a camera to carry around with you, you'll probably want a compact or mirrorless camera instead.
Read the full review: Canon EOS 90D
Best Sony Vlogging Camera With Flip Screen
The Good
Great autofocus
The only compact camera with external mic jack
Great image quality
The Bad
Stabilization is not the best
The small sensor means poor low-light performance
Mic jack, but nowhere to mount a mic
Image Quality: 4kp30 | Sensor: 1″ BSI-CMOS Sensor (point & shoot) | Weight: 302g / 0.67 lb | Mic Input: Yes | Stabilization: Yes
This camera is the main competitor of the Canon G7X Mark II. It is also a daily vlog camera, but this one is a bit more powerful and newer—but also a lot more expensive.
The first thing that caught our intention when this model was announced was the external mic jack. This is unheard of in compact cameras. Thank god!
However, since it's a small compact camera, it doesn't come with a hot-shoe.
This means that you don't have a place to mount a shotgun mic. You can only use a lavaliere microphone with it.
Still, that's better than not having mic jack at all like most compacts.
It can record 4k video at 30fps and can achieve extreme slow-motion videos in 1080p with 960fps.
It also has the ability of achieve more realistic colors than the Canon G7X out of the box. This lets you record and upload your video without having to do any color grading, which can be annoying for newbies.
But, it still isn't better than the Canon in every way.
For example, the stabilization is not very good. This is a shame because it's a really expensive camera, but most phones have better stabilization.
Finally, like most compact cameras, it suffers from low battery duration.
The Good
4k recording
Almost pocketable
APS-C Sensor
Best autofocus
The Bad
Lack of in-body stabilization
Relatively short battery life
Image Quality: 4kp30 | Sensor: APS-C | Weight: 403g / 0.89 lb | Mic Input: Yes | Stabilization: No
The Sony alpha lineup is popular for YouTube because they record excellent 4k video and have probably the best autofocus systems.
The Sony a6400 is not the last camera in this lineup, but it's the best one for content creation.
It boasts the fastest autofocus in the world — according to Sony — with 425 phase-and-contrast-detect AF points that cover 84% of the image area.
We can't test the milliseconds the autofocus takes to focus, but we can say that it is pretty fast, accurate, and reliable.
On the other hand, the camera does lack in-body stabilization. So you'll want to get a lens with OIS (the kit lens is pretty good for starters and it comes with stabilization).
This would win the "best vlogging camera" award if it didn't lack internal stabilization.
Still, it's a great camera for recording on a tripod, and taking out with you — with a OIS lens — thanks to its small size.
By the way, the camera has a flip-up screen. So you'll want to use a cold shoe relocation plate like this one if you want to use a shotgun mic with it.
Read the full review: Sony a6400.
Best Panasonic Cameras With Flip Screen
The Good
Pocketable
Fast lens (f/1.4)
4k recording
The Bad
Small sensor, so bad quality in low light
No external mic port
Unreliable autofocus
Image Quality: 4kp30 | Sensor: 1″ BSI-CMOS Sensor | Weight: 310g / 0.68 lb | Mic Input: No | Stabilization: Yes
Panasonic is a really good brand for small cameras that can record really good video.
For vloggers, one of the most important models to consider is the Panasonic LX10.
It is a close call when you compare it to the G7X Mark II, since this one offers what it seems, on paper, a faster lens and better (4k) recording quality.
The 4k recording is really good. The camera achieves beautiful colors and can record 4k clips for 15 minutes straight without overheating. This is a really good performance demonstration, but there are also some other things that the G7X does better.
For example, the G7X comes with better image stabilization, so it achieves less shaky image. And it also has a better (although not perfect) autofocus.
The camera also performs better in low light, as its lens stays faster as you use the zoom when compared to the LX10.
This is what you're trading for going for the LX10 instead of the G7X; basically a more stunning image with incredible colors, for a slightly worse performance overall.
It is still one of the best vlogging cameras you can choose, so get this one if you don't think you need to rely too much on autofocus, or maybe if you don't think you will be running a lot with your camera.
Read the full review: Panasonic LX10
The Good
4k recording
Great price-quality relationship
Made for video (IS, mic. port and flip screen)
Lightweight
The Bad
Micro 4/3 Sensor is smaller than most DSLRs and mirrorless
Image Quality: 4kp30 | Sensor: Micro Four Thirds | Weight: 505g /1.11 lb | Mic Input: Yes | Stabilization: Yes
Panasonic doesn't make many cameras, but the few ones they got are a really good fit for vlogging.
The Panasonic G85 is my favorite from them when it comes to vlogging cameras. This one simply has all the additional features vloggers love.
We could wrap up this camera by simply saying that you will sacrifice a bit of low-light performance in exchange for being able to connect an external mic to your camera, and 4k recording quality in a fairly lightweight body.
This is really comfortable for vloggers since that's one less step you'll have to go through during the editing process. There will no need for you to sync audio and video if you want to have the best audio quality.
Additionally, you will be able to set a shotgun microphone on the hot-shoe of the camera, which combined with a gorilla pod will be the perfect vlogging setup.
The low-light performance will suffer a bit, together with the ability to achieve the "blurred background" effect some vloggers like to have.
This is due to its sensor size being a Micro Four Thirds, which is slightly smaller than the APS-C found in most mirrorless cameras.
But if you are a vlogger, you will probably record mostly outside your house, and an MFT sensor is more than enough for that.
This is the way Panasonic can give more features to buyers: by using a cheaper and smaller MFT sensor.
Still, remember that you can record 4k video at 30fps with this baby. This is definitely a really good trade for vloggers, and that's why I can't leave this post without mentioning this camera.
Read the full review: Panasonic G85.
The Good
Stunning 4k image
Great stabilization
Made for video (IS, mic. port and flip screen)
The Bad
Micro 4/3 Sensor is smaller than most DSLRs and mirrorless
As heavy and big as a DSLR
Image Quality: 4kp60 | Sensor: Micro Four Thirds | Weight: 725g / 1.60 lb | Mic Input: Yes | Stabilization: Yes
The GH5 doesn't have the typical advantage you can find in a mirrorless. The camera is actually just as heavy as a DSLR like the 90D, with only 5g less on his body.
However, this camera is becoming really popular between Youtubers. And for good reasons.
It isn't exactly the choice for your camera to vlog with a selfie stick as it's also quite big for a mirrorless, but the 4k video at 60fps is absolutely stunning.
The camera achieves beautiful colors, and has a really wide Dynamic range that makes it useful for any high-contrast situation.
This is my favorite camera to use on a tripod because of its stunning video quality.
If you are strong enough to carry this camera with a selfie stick, you will also appreciate the Dual I.S. function.
This is basically the ability to use the internal image stabilization together with the optical stabilization of some compatible lenses.
This makes the camera achieve the smoothest image without needing a steadycam.
On the downside, besides being a bit heavy for a mirrorless, it's also a Micro Four Third sensor, so it can't compete with cameras like the Sony A7S II for low light.
But to be fair, this camera does just about everything else better and it's easier to use—thanks to its user-friendly menu and layout—than most full-frame cameras.
Don't let the fact of this camera being down here on the list persuade you from thinking it isn't an excellent camera. It's just better if you're not going to travel a lot with it.
Read the full review: Panasonic GH5.
The Good
4k at 60 fps
Great for both photo and video
APS-C Sensor
The Bad
Expensive
Not as small as other cameras
Image Quality: 4kp60 | Sensor: APS-C | Weight: 607g / 1.34 lb | Mic Input: Yes | Stabilization: Yes
If you want a camera that is outstanding for both photography and video, the Fujifilm XT-4 is the latest release you should pay attention to.
It has everything you'd want in a camera for video: stabilization, flip-out screen, and external mic input.
But one of the camera's strongest points is the capacity to record 4k at 60fps. Combined with the high dynamic range, it allows the camera to record astonishing video.
It's not common to find an APS-C camera with so many great features for video and photography at the same time. Moreover, it isn't common to find it in such a lightweight body that weighs 1.16 lb / 526g.
The main downside is that it's not cheap. But this is not a surprise since it basically has everything you could ask for video recording.
This is a great option if you really want the best quality and have the budget for it.
Read the full review: Fujifilm X-T4