Top 5 Best Camcorders for YouTube Vlogging 2021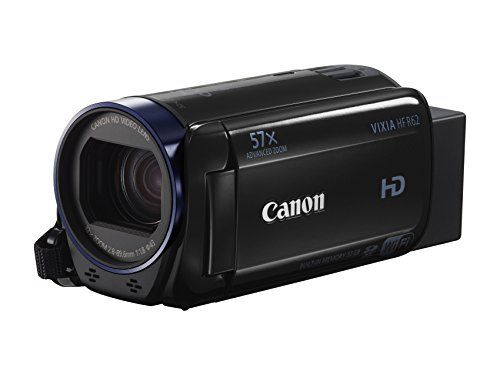 I'm not going to lie… I'm not a big fan of camcorders for Youtube.
Since you need to be able to record indoors without losing too much quality, camcorders are not the best option for this job.
However, if you plan to record outside during the day, or you set up a small home studio with good lighting, they can work pretty well.
But they can still be a good option. In fact, the biggest YouTuber uses a camcorder.
I will still always prefer a mirrorless instead, but with a camcorder you can get a good trade for the money.
Now let's see the ones that are the best for this kind of job.
**Disclaimer: We are a participant in the Amazon Services LLC Associates Program, an affiliate advertising program designed to provide a means for us to earn advertising fees by advertising and linking to Amazon.com.
Why I Think Other Type of Cameras Are Better for Vlogs
I have a kind of love/hate relationship with camcorders.
They are cameras made for video recording, so they come with the whole package for a good price:
"Then, why don't you like them, Will?"

See, my biggest problem with them is that they have such a tiny sensor.
This makes them lose a lot of image quality in low-light conditions.
You need to control your lighting if you want to record with them.
This is not a problem if you have a lighting studio at home, which is pretty cheap and easy to set.
However, if you need to take your camera out, you better not record indoors or at night because the results will be awful.
When you're recording your day, you never know when you're going to end up recording in low-light environments, and that's a problem camcorders face.
So if you want to go on with the idea of getting a camcorder for vlogging, you're warned.
If you would prefer to look at other kinds of cameras, this top list of the best types of cameras for vlogging will help you.
Why is a Small Sensor Size a Problem?
The sensor of the camera is the part that is ultimately responsible for capturing light at an exact moment and creating a still photograph from it.
So, since an image is essentially light that was captured by a sensor, the more light the sensor can capture, the sharper, and higher-quality the image will be.
And simply put, large sensors can capture more light.
Similarly to how our eyes work, cameras transform light into an image.
But cameras need a lot more "light" than us to "see" as well as we do.
That's why DSLR and mirrorless cameras are used by professional photographers; they come with large sensors.
Camcorders are for people who want to record for a long time, but they do it at the cost of sensor size.
To compare how much smaller a camcorder sensor is compared to the rest, here's a good graphic. The smallest size (1/2.5") is close to what most camcorders use:
What Happens to Your Camcorder When You Record in Low Light?
If you go inside a place that doesn't have a lot of windows, or if you record when the sun is settling down, the sensor will need to increase its sensibility to light to be able to capture an image.
After all, the sensor has to work with the little amounts of lights is receiving.
This is measured on a scale called ISO.
Let's say that your camera only needs to record in ISO 200 if there's plenty of light. But when the night comes, it needs to increase the ISO to 4000.
The camera will be able to capture an image in both situations, but the one with the increased ISO will show a lot of imperfections in the form of image noise.
Here's a comparison of an image taken with low ISO vs high ISO:
This is why if you want to take the camera with you and don't have control of the environment, you should get a camera with a larger sensor instead.
This will give you enough room to work in different lighting situations.
You can find a good mirrorless for vlogging like the Canon EOS M50 (our go-to vlogging camera) for around the same price as a camcorder but with a much larger sensor.
Why Do Some People Still Choose to Go for a Camcorder?
People that want a camcorder want a small camera that is just made for video.
They want the nice zoom they have, and they probably need to record for a really long time.
The advantage camcorders have over DSLRs and mirrorless cameras is mainly that they're made for longer recording sessions.
If you want to record for hours without stop, your mirrorless camera might overheat or run out of battery.
But we're talking about people with very specific needs, like recording an entire TV show or movie.
But for most people, including vloggers, a mirrorless is just the better option. You'll probably never record over 30 minutes of non-stop video as a vlogger.
You're probably just going to record little clips here and there and finally create an entire video after putting it all together.
For YouTube, it's rare to find videos longer than 15 minutes. That' why you don't see many YouTubers or vloggers using a camcorder.
So, if I convinced you, you can check this list with the best vlogging cameras instead.
If you still want a camcorder, here are your best options:
Review of the Best Camcorders for YouTube Vlogging
First, I'd like to clarify that all the cameras listed here have an articulating screen and an external microphone port, which are essential features to achieving the best quality for YouTube vlogging.
Before going for any of these cameras, you should take into account the price of an external microphone. You will need one for vlogging, so you can check this post before deciding which one to get.
Now, let's begin.
Canon XA11 – PewDiePie's choice
If you're looking to step up your video game by upgrading to a professional-quality camcorder, the Canon XA11 is a great camera to invest your hard-earned money with.
Camcorders' relatively smaller image sensors may not be as powerful as those of DSLRs or mirrorless cameras but the XA11's 1/2.84-inch, 2.9-megapixel HD CMOS Pro Image Sensor can give you the ultra-sharp and highly-detailed video quality that will take your vlogs to a new level.
However, like other camcorders, the Canon XA11's bulkier and heavier body might not be as easy and versatile to use as smaller cameras. The Canon XA11 itself weighs about 1.7 lbs.
What more, this Canon camcorder's improved low-light performance will enable you to continue getting sharp and clear footage despite the absence of bright lights.
The Canon XA11 also offers versatility for you artistic videographers out there. Aside from the ability to shoot full HD at 1920×1080, it has a native 24p recording option which matches the traditional frame rate of film cameras.
This recording option is one of its advantages over the Canon VIXIA G40, a less pricey camcorder targeted for novice videographers.
The XA11 further proves itself to be one of the best camcorders for making Youtube videos with its amazing built-in optical image stabilization system. With various image stabilization options, the XA11 produces footage with less motion blur and distortion-free videos even when you're shooting handheld.
Just think about it, if the biggest YouTuber is using it, it must be good for the job. However, don't think this camera is what made him so successful.
Panasonic HC-V770 – Best Image Quality for a Good Price
The Panasonic HC-V770 is also a good filming camera for YouTube vlogging because of its good price and high bitrate recording.
Also, to this date, it is one of the very few camcorders that offer 4k recording. Although this is only optional.
You will notice that it is more expensive than the Canon HF R80, but the 1080p video is recorded at a higher bitrate (50 mbps instead of 35 mbps). This means much higher quality video.
In fact, there's no other camera on this list that can record better video quality. Fun fact is that this one is not even the most expensive one.
It can also go up to 120 fps so you can record real slow-motion video with it.
It still shows good low-light performance for its price; recording indoors shows a lot less noise. This is due to its nice 1x 6.03 Megapixel 1/2.3″ MOS sensor.
This camera is the best choice for the money if you can spend more than what the Canon VIXIA HF R80 costs.
Finally, these are all its most interesting features for YouTube vlogging:
If you want to hear a bad side, the battery life is probably the main problem, as it only allows up to 1 hour of recording on a single charge.
It is still a camcorder, so it's not as good for low light as APS-C DSLR and mirrorless cameras, but it is one of the top choices if you want a camcorder.
This camera is the most expensive one on this list, but it's the only semi-professional camera.
It is the best handycam for YouTube videos if you want to start recording like a professional; this is because the Canon VIXIA HF G21 has great image quality in good lighting conditions, but it also performs decently for a camcorder in low light.
It still has a smaller sensor than a DSLR, but it has a full manual mode and a luminous lens.
It's an entry-level professional camera that offers *almost* the best quality you can get with a camcorder (sadly, the next step is really far away in price, and it's probably only recommended for professional broadcasting).
The thing is that with this camera you can set manually aperture, exposure, focus and more. If you know about cameras, you'll understand the advantage of being able to set the camera however you want it to record.
This is what professional YouTubers like about this camera.
But besides this, you also get: 1080p60 video recorded at 35mbps in mp4, around 2 hours of recording in a single charge and wireless connection.
In conclusion, this camera is the one for indie filmmakers and serious YouTubers. This is why you will see this camera (and the G20) being used by many YouTubers, especially for tech channels and product reviews.
I'm featuring first the Canon VIXIA HFR80 because it offers a really nice balance between quality and price.
The Canon VIXIA HF R lineup has been the best vlogging camera family for years. This year's model, the HF R800, still comes as a great deal. It offers everything a YouTube vlogger needs: it records 1080p video at 60fps (35Mbps), its battery lasts longer than any other camera within the price range, and it has a fully articulating screen and external microphone input.
The HF R800 comes in three versions: the R800, R80, and R82. These are ordered from the cheapest to the most expensive version. I'm featuring the R80 on this article because it comes with wireless (Wi-Fi and NFC) and 16GB internal storage without much price difference from the base model.
However, you can get the HF R800 if you want a cheaper version without a wireless connection and internal memory.
Here's an overview of each model:
So, basically you can choose between the optional features you like the most.
Note that all of them record directly to mp4 at 35Mbps, which is an easier format to edit with really good quality.
I'd say this is the safest bet for your wallet. You can get it now and keep it for when you upgrade to a much more expensive camera.
It's still very useful for outdoor recording.
Just avoid a cheap camcorder like this if you need to record a lot indoors or during the night—although I'd say avoid a camcorder if you need to take your camera to indoors without proper lighting.
Read the full-review here: Canon VIXIA HF R800
Canon XA15 – The Serious Youtuber Camera
Being launched together with the XA11 as part of Canon's XA line of compact professional camcorders, the Canon XA15 shares a lot of features with the XA11.
The Canon XA11 is similarly equipped with the same 1/2.84-inch, 2.9-megapixel HD CMOS Pro Image Sensor, the same improved low-light features, and optical image stabilization options.
But the main difference between the two is that the Canon XA35 is equipped with an HD/SD-SDI output which is used to directly connect the camcorder to other professional video devices. This feature is primarily targeted for news media producers but will also be useful for any professional videographers out there.
The Canon XA15 also allows you to record uncompressed video footage if you want to ensure only high-quality video output.
One downside of getting the Canon XA15 though is its expensive price. Despite being almost identical to the XA11, the XA15 retails for about half a thousand dollars more. And of course, being a professional camcorder the XA15 falls into the same size and weight pitfall as the XA11 making it not so ideal for on-the-go adventure vloggers.