The 3 Best Tripods for Vlogging in 2021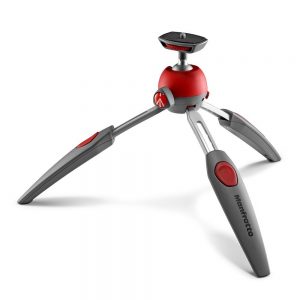 The most efficient way is to have a tripod that you can use also as a vlogging stick. That's what you're looking for in a tripod for vlogging. You will see on the internet unlimited lists of tripods because there are so many options. However, for vlogging the selection is a lot smaller.
There are currently 3 tripods that truly deserve the title of best vlogging tripod. They are also what most vloggers are using.
It's been really hard to find a tripod that can compete with these 3 if you only care about vlogging. So, it's probably that you will end up choosing one of these.
But before going into each one, let's see why you need a tripod for your vlogs.
**Disclaimer: We are a participant in the Amazon Services LLC Associates Program, an affiliate advertising program designed to provide a means for us to earn advertising fees by advertising and linking to Amazon.com.
Why Use a Tripod for Vlogging
If you're new to vlogging, you are probably wondering why a tripod is necessary. I'm sure you've seen a lot of vloggers use one to hold the camera as a camera stick… but why do they do it?
There are two main reasons:
1. Stability
2. Bein able to use zoom lenses
One of the main concerns as a vlogger is to be able to keep a smooth image while walking around with your camera. Holding your camera on a tripod or stick helps a bit with stability so your image won't move around so much. The combination of a tripod and a camera with image stabilization is what makes a really smooth video.
But the second reason is also important: holding your camera on a stick while you record yourself will help you get the camera away from your face. This allows you to capture more space around you and lets you use lenses that have a bit of zoom.
You might not have thought about this, but using a wide-angle lens—which is a requirement if you want to record in selfie mode—will make things look a lot less natural. This is one of the reasons why GoPro cameras are so cheap in relation to the image quality they achieve.
The wider the lens is, the more perspective distortion it will create. And you want to look good for the camera, don't you?
Now, let's learn what tripods will help you get rid of perspective distortion while being light enough to be carried around for an entire day and also sturdy enough to hold a heavy camera.
Top 3 Vlogging Tripods
Joby's GorillaPod is truly and outstanding invention. You can't really start vlogging without considering getting one. It is so useful and versatile that is hard not to recommend one, and there's one size for each kind of camera you have.
If you don't know what a GorillaPod is, it's basically a tabletop tripod that has fully articulated legs. This allows the tripod to adapt to any surface and almost any position you can think of. This allows it to be used as a vlogging stick too. So with Joby you have a selfie stick that you can turn to a tripod for any surface. It is by far the most versatile tripod there is.
Things can get a bit complicated when choosing what GorillaPod to buy, as there are a lot of sizes available. Joby has a useful video that explains which one to get. Here it is:
And here's a chart to find the right model for you. There are 5 models you can get depending on your camera's weight: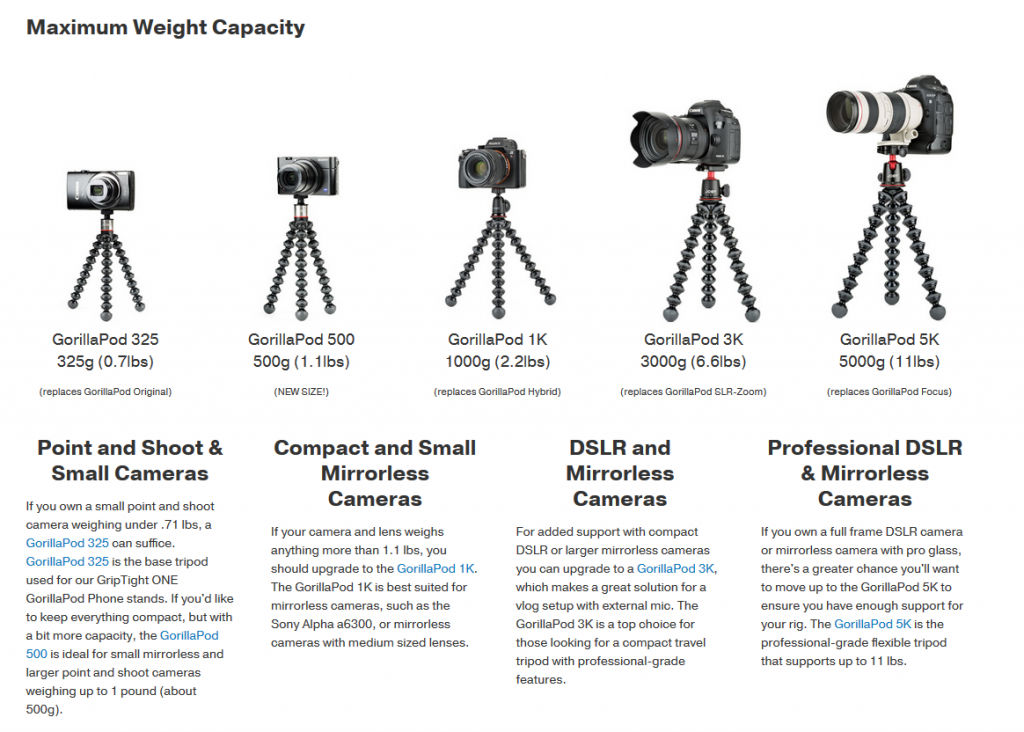 Recommended for
DSLR, mirrorless with big lenses
Even though it says it's recommended for your kind of camera, make sure you know the weight of the body plus the lens you'll use. This is the way of making sure you are getting the right GorillaPod for your model.
I love how they named their tripods according to the maximum weight they can handle. You only need to find out your camera's weight and choose the stick that can hold just enough weight. No need to overcomplicate things.
If you decide to choose a Joby with much more capacity, remember you will also have to deal with the extra weight. That's why I prefer sticking to the one that can hold just enough weight.
Finally, another advantage of the GorillaPod is that you can change its ball head, but only for the 1k, 3k and 5k versions. This makes it easy to replace in case it gets damaged.
However, there's an important thing you should know about Jobys. I've seen many vloggers ditch a Joby for a lighter tripod. I'm also one of them.
If you own a DSLR, you will need to get the heaviest Joby available, which weighs almost 2.2lb (1kg).
You will need strong arms to hold the Joby tripod up while your camera is mounted, which can add up another kilogram.
Also, Joby's junctions become a lot weaker with usage. It's not rare to see people having to get a new tripod after a while because the dozens of joints start to weaken and can't hold a heavy camera up and sturdy.
But definitely, the main reason why I don't like to give vloggers this kind of tripod as the first recommendation is the weight. I mean, look at how heavy this tripod looks with a DSLR.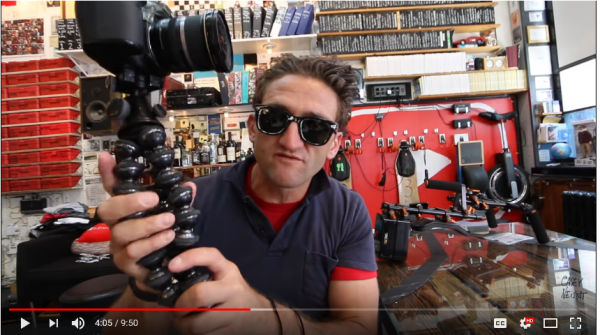 This problem is almost nonexistent if you use the lighter versions of Joby. In case you have a light mirrorless or a compact camera, then choosing a lighter Joby is just fine. But if you have a heavy camera, I'd recommend you to get another kind of tripod:
Even though this tripod doesn't have the functionality and versatility of a GorillaPod, it is a lot lighter. This automatically makes it better for the sole purpose of vlogging, at least in my opinion.
If you don't think you will using the functionality of the Joby to adapt to any surface, then this Manfrotto is much better. You can still use it as a tabletop tripod but it's much lighter to carry as a stick.
I would recommend it if you have a DSLR and have weak arms—like your fellow writer has.
If you're wondering, the EVO 2 weighs only 9 oz (260g), and it can reach 8 inches (20.5 centimeters). The maximum weight it can hold is 5.5lb (2.5kg).
This Sirui ET-35K is probably a tripod yo have never heard about before, but it has gained a bit of fame really quickly, especially between vloggers.
After all, it only weighs 8.8 oz (250g). That is 10g lighter than the EVO 2—although that's a barely noticeable difference. It can hold up to 8.8lb (4kg).
The true advantage over the EVO 2 is the maximum height. It can completely turn into a vlogging stick with a total height of 13.4 inches (34cm), much longer than the Manfrotto's 8 inches (20.5cm). This allows you to use lenses that aren't as wide, and to capture more space when you record in selfie mode (see below for a comparison).
It can also turn into a tripod, but it is only useful in completely flat surfaces. This is probably the least versatile tripod of the list, but it is the best if you mainly want a vlogging stick because of its weight and height.
It is the lightest of the three tripods and the best one at being a simple, yet convenient vlogging stick.
How Will Your Videos Look With Each Tripod?
Now that you know a bit of the technical differences, I wanted to give you a comparison of how your vlog is going to look using this three tripods.
The following comparison was made with a 24mm lens, which is the most common choice for vlogging. If you get one of the recommended compact cameras, this is the widest angle you will be able to get. These pictures will help you see the difference that each tripod's height will make.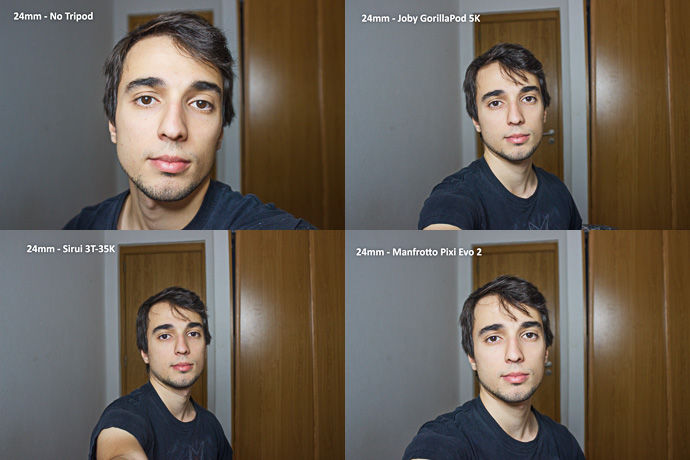 Is there a vlogging monopod or tripod I didn't mention that you've found useful? I'd like to hear more options, but I just can't find another one that is worth more than any of these for this purpose. I might include more if I find something useful.