Top 5 Best YouTube Starter Kits 2021
Are you finally ready to start your journey into YouTube vlogging?
Great!
This could be the start of your next hobby or even career.
But, before you boot up your computer and create your YouTube account, you're going to need some equipment.

To start on YouTube, not only you need a killer camera, but you'll also need a lens-or-two, a mic, an SD card, and maybe a few extras.
Luckily, a few companies now make YouTube starter kits. These kits come with tons of essentials all bundled together for content creation.
But, if you're someone who wants to get started ​vlogging, put your reading glasses on. Let's find you a killer YouTube starter kit.
​These all have great vlogging cameras, help save you money, and come with vlogging essentials.
Let's dive in!
Why Buy a YouTube Starter Kit?
Great question! Why not just go out and buy each piece individually? After all, you can mix-and-match pieces and get exactly what you want if you buy them individually, right?
Well, yes. But, there are definitely some benefits to picking a start kit over individual pieces.
Let's go over a few.
Starter kits are cheaper. Since you're buying everything bundled together, it's almost always cheaper to buy a starter kit. For a quick view of this, check the end of one of the reviews below where we tally up the cost comparison.
Starter kits usually have exactly what you need. If you're trying to vlog, you don't need 400 filters and a bunch of crazy photography gadgets. You need the right filter, the right camera, and a killer mic. Tons of camera companies have bundles, but they're usually for photographers. Vlogging starter kits give you the right tools for a vlogging.
Stater kits cut down research time. Don't feel like reading 500 blog posts about each piece of equipment? No problem! This one post will give you pretty much everything you need to know to get started vlogging — simple and easy.
Things to Think About Before You Buy a Starter Kit
There are a few things to think about when it comes to choosing a starter kit.
Do you need all of the equipment?
Do you like the camera (it's the most important part!)
Is the starter kit for vloggers or photographers?
Does it actually save you money?
​Alternatively, with a little bit more research time, you can get ​only what you really need to start vlogging. That way you will get more freedom of choice.​

---
Canon EOS M50 Video Creator Kit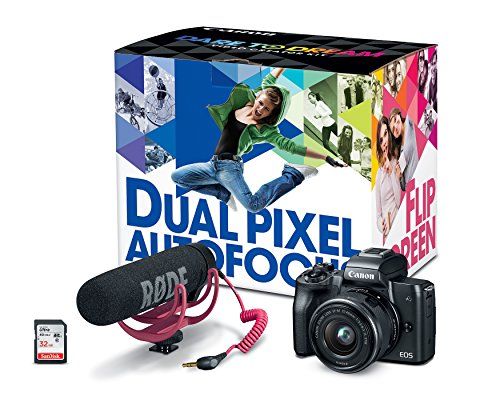 This Canon EOS M50 Video Creator Kit was definitely made with vloggers in mind. Not only does it come with one of the best mirrorless cameras on the market — The Canon EOS M50 — but it has a great lens, a mic, and an SD card for storage. That definitely earns it a spot on my best YouTube starter kits list.
This Canon EOS M50 Video Creator Kit includes.
Canon EOS M50 Mirrorless camera
EF-M15-45mm Lens
Rode VIDEOMIC GO
and a 32GB Sandisk Memory Card
Canon EOS M50 Mirrorless Camera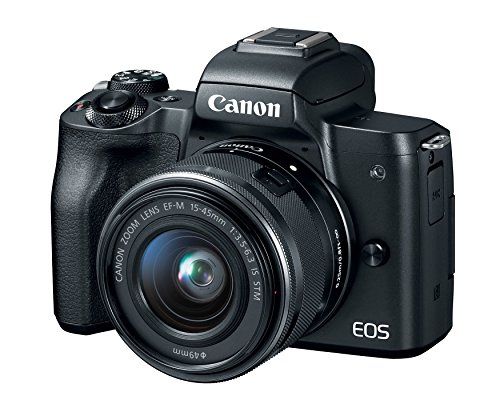 The Canon EOS M50 is, without a doubt, one of the best mid-tier mirrorless cameras on the market. It's incredibly intuitive, easy-to-use, and sports an immense number of features.
It sports a 24.1-MP APS-C-sized image sensor, which gives you beautiful, crystal-clear images, and it can shoot in 4k, which seems to be the direction that YouTube is headed — at least, most popular vloggers are already shooting in 4k.
The main issue with the EOS M50 is its kit lens, which only has an f/3.5-6.3 aperture. This can make shooting in low-light a pain. As always, I recommend that vloggers use a light kit, but if you aren't, the base EOS M50 lens may not be for you (Don't worry! the Video Creator Kit comes with another lens that I'll review in a sec.)
On top of the killer video quality, the EOS M50 has Lens IS + digital stabilization, which means that you can use it for those run-and-shoot sessions without all of that annoying shaking.
It also has a touchscreen (like most modern camera offerings,) and it has a decent battery life (235 shots.) That being said, it suffers from an all-too-common problem. It has no USB charging. Which, let's be honest, can be a pain. But, most vloggers are going to keep it stationary for most sessions, so this shouldn't be too big of a deal.
Just remember, it may be a pain to charge on-the-go.
EF-M15-45mm Lens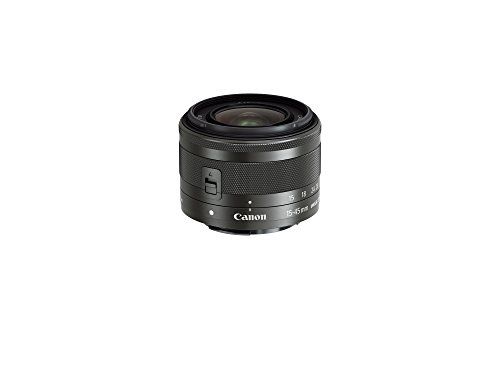 One of the main problems with the ESO M50 is that it doesn't have as many lenses as some of its competitors (e.g., Sony.) But, this lens is pretty much the perfect vlogging lens.
The EF-M15-45mm has superb image stabilization and low-light capabilities. Plus, it's light-weight, small, and has a great zoom for its size.
Really, this is the best vlogging lens for the EOS M50. So, it makes sense that it's in this Starter Kit. I recommend using it at f/6.3 for vlogging. It will give you a nice aesthetic and keep you in-focus and clear-as-crystal.
Rode VIDEOMIC GO
The Rode VIDEOMIC GO has been a popular vlogging mic for a while. It's a small shoe-mounted shotgun mic that you attach to the top of your camera via a Rycote Lyre shock mount. It covers 100Hz – 16kHz frequency, which is definitely optimal for vlogging. Most vloggers cut everything under 100Hz in post anyway.
The best thing about this particular mic is that it's INSANELY easy-to-use. You don't have to plug it in, and you don't have to mess with any on-mic controls. The second it's plugged into your camera, it's recording. It's really that simple.
Rode VIDEOMIC GO isn't my first choice. It just narrowly missed my Best Vlogging Mics list. But, it's definitely a quality mic, and it can handle almost any vlogging setup.
And, when we're talking about the best YouTube starter kits, it's certainly a great choice. If we were talking about the best YouTube mics, it would probably miss the top 5.
32 GB Sandisk Memory Card
Not much to review here. This card can handle HD recording and it's big enough for daily use. It's, well, it's a video card.
---
​Canon PowerShot Video Creator Kit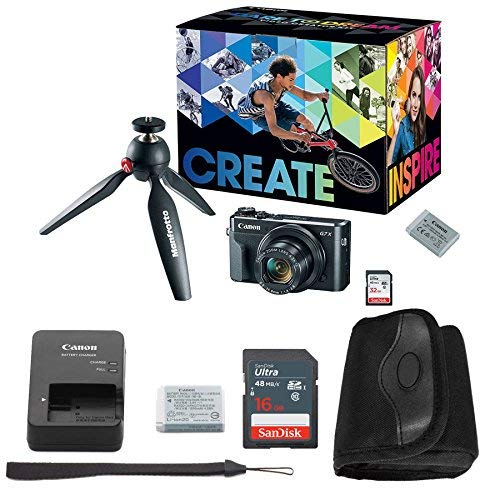 The Canon PowerShot Video Creator Kit is another canon video creator kit. I put three of them up on this best YouTube starter kits list. Canon is doing a great job so far of providing video creator-specific kits.
This kit includes:
Canon PowerShot G7 X Mark II
Manfrotto PIXI MINI Tripod
SanDisk 32GB SD Card
Canon Battery Pack
Canon PowerShot G7 X Mark II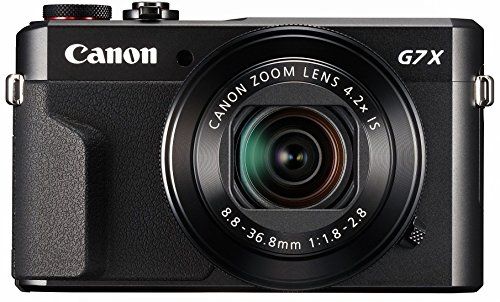 The second G7 — the Canon PowerShot G7 X Mark II — is one of the better portable cameras on the market. It's definitely an upgrade from the first iteration of the G7, though it still needs some battery work.
G7 is basically built for vlogging. It's cheap. It has the vlogging necessities (shot quality, portability, ease-of-use, good low-light, etc.) And, best of all, it has a flip-up-screen.
I've talked about this before, but having a flip-up screen is huge for vlogging. It lets you easily see yourself without taking your eyes off the camera focal point.
The camera has a 1.0-inch CMOS sensor at 20 MP (same as the first G7 X.) So, it may seem like it would have the same quality as the G7 X. But, it has a new processor, which is what ends up converting the image. So, it definitely has noticeably improved quality over the G7.
I was actually surprised the first time I picked this one up. It has REALLY good image quality for the price. Little-to-no noise, really sharp, and it has great focus and low-light capabilities for a compact camera.
Overall, the camera is a huge win. It's not a mirrorless camera, so it's smaller sensor is the only main disadvantage. But it is the favorite compact vlogging camera for many vloggers.
The main two problems are the battery (which drains fast) and the lack of a viewfinder. But, as I said, this was definitely made for vlogging (I can almost guarantee Canon's backroom designed this for YouTube.) Vlogging doesn't need a viewfinder. So, the camera is lacking a feature that doesn't really impact any of my readers.
Manfrotto PIXI MINI Tripod
Not much to say here. The tripod is lightweight, has click-to-lock, and just works.
---
​Canon 80D DSLR Video Creator Kit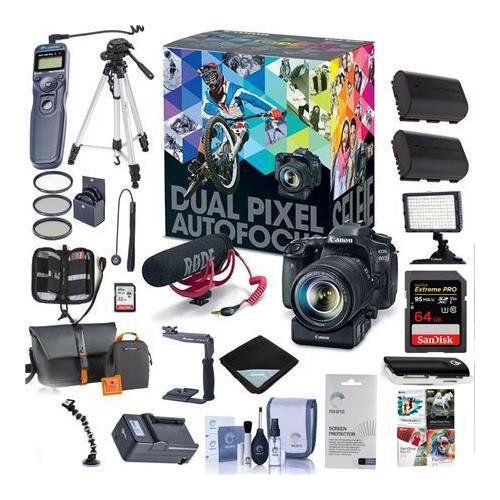 Ok, so, the two I reviewed above come with a few extras. This kit is basically an avalanche of extras.
And, these extras make it a feature on my best YouTube starter kits for vlogging list for two reasons.
It has everything you need.
And, the savings here IS INSANE.
Let's list them off.
Canon 80D DSLR
EF-S18-135/3.5-5.6 IS USM Lens
Rode VIDEOMIC GO Mic
32G SD Card
Power Zoom Adapter
and a Bundle Kit (more on this below)
Canon 80D DSLR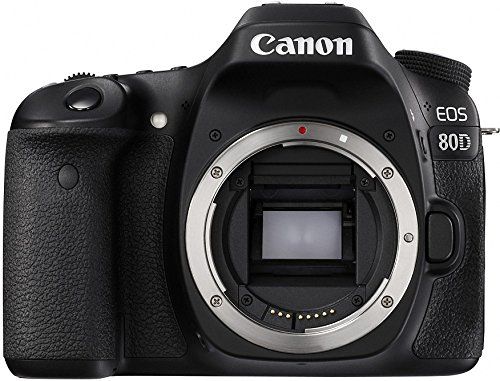 I like to call this camera "the Youtube Builder." There are so many vloggers that use the Canon 80D DSLR (or the Canon 70D DSLR) that it's ridiculous. From big names like Zoella and Bethany Mota to thousands of smaller channels, the Canon 80D DSLR is basically the king of YouTube. And, like most kings, it's a little expensive.
You can usually snag it for around $900 nowadays. That's still a little pricey. But, there's a reason.
This thing is a BEAST.
I've already talked about my love for DSLR cameras before.
But, let me break it down.
I'm talking a 24MP APS-C CMOS sensor with dual pixel autofocus (basically makes videos look like they were shot through the halo of an angel with continuous focus.) It's 1080p at 60 frames per sec, which is the money region for YouTube.
Oh, did I mention the 3-inch fully-articulated touchscreen?
Wait! I forget about the 300 billion menu options and the 6-hour battery life (while recording!)
There's almost too much that's good about this camera.
The only negative — there's no 4k.
But, it's a camera from 2016. What do you expect?
EF-S18-135/3.5-5.6 IS USM Lens
I can sum up this lens with four features.
f/3.5-5.6 aperture is great for low-light.
This thing has a crazy focal length.
It also has insanely good stabilization
The image quality is great
Rode VIDEOMIC GO Mic
Another appearance by the Rode VIDEOMIC GO. What can I say? It's small, easy-to-use, and simple to set up.
Power Zoom Adapter
This is for that EF-S18-135/3.5-5.6 IS USM Lens. It makes it to where you can zoom smoothly without all of the manual work. Definitely a good accessory for vloggers.
Bundle Kit
Thought we were done? Oh no! That was just the beginning.
Besides the most popular YouTube camera of all time, a killer lens, a mic, and a zoom adapter, this kit has:
32GB SD Card
Camera Bag
67mm Filter Kit
Video Light
Tripod
2 Spare Batteries
Remote Trigger
Card Reader
Memory Wallet
Cleaning Kit
Lens Wrap
Screen Protector
Suction Cup
Compact Charger
and a Flip Flash Bracket
Phew! That's a bundle if I've ever seen one!
---
Sony Shooting Grip Bundle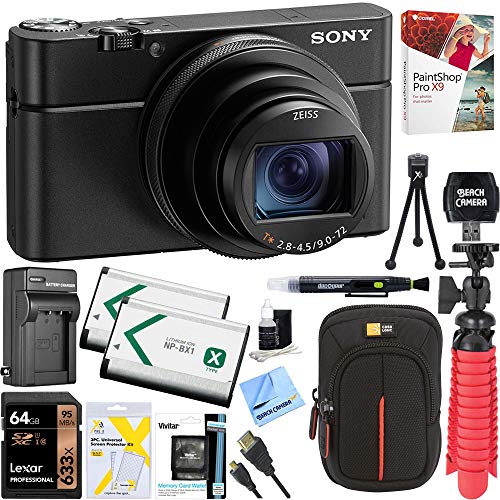 This is another super kit.
This time, we're going to move into Sony territory, who have been killing it recently with their camera lineups — especially in the once Canon-dominated vlogging industry.
This kit includes:
Sony Cyber-Shot DSC-RX100M6 RX100 VI Mark 6 20.2 MP 4K Compact Digital Camera
F2.8 – F4.5 Zeiss 24-200mm Lens
Tripod
and another bundle of accessories
Sony Cyber-Shot DSC-RX100M6 RX100 VI Mark 6 20.2 MP 4K Compact Digital Camera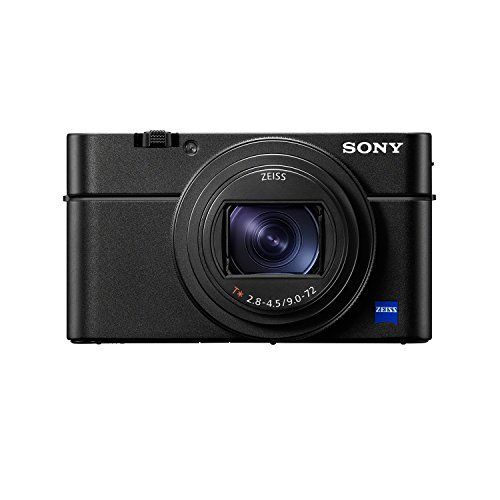 The second 4k camera bundle on this list, the Sony Cyber-Shot VI Mark 6 has incredible video quality – though it has only moderately good low-light capabilities.
If you're planning on grabbing a light kit, this may be the camera for you.
It has a 20.1MP 1″-type stacked CMOS sensor, which does 4K video at 30p and 24p.
The stabilization is astounding (5-axis image stabilization.)
And, to top it all off, it has crazy-good autofocus.
There are 3 things to remember about this camera.
It can only shoot at 4k for 5 mins (this is pretty standard for mid-range luxury cameras)
Has no mic socket which limits your audio capture capabilities (not noticeably important for normal vlogging)
It has about a billion video features that are nifty (e.g., tunable zebra warnings, focus peaking, etc.)
F2.8 – F4.5 Zeiss 24-200mm Lens
This is 100% a vlogging lens. It has great zoom, great stabilization, and just works. This kit also includes a grip for the camera that comes in "vlogging black," so the entire kit is centered around vlogging. This really shows with this lens.
It has killer low-light and great video-quality and focusing.
Overall, the F2.8 – F4.5 Zeiss 24-200mm Lens is a vlogger's dream.
The Rest of the Bundle
Here we go again.
The bundle on this kit includes:
Sony VCT-SGR1 Shooting Grip
Tripod
Wrist Strap
Pouch
Compact Point and Shoot Camera Case
SanDisk 64GB Extreme SD Memory UHS-I Card w/ 90/40MB/s Read/Write
Card Reader
2 1600MAH Battery Packs for NP-BX1
Charger for NP-BX1
Lens Cleaning Kit
LCD/Lens Cleaning Pen
Microfiber Cleaning Cloth
Corel Paint Shop Pro X9 (Digital Download Card)
12-Inch Compact Rubberized Tripod
High Speed 6 Feet Micro-HDMI to HDMI A/V Cable
That's all the hardware and video editing software you would ever need for vlogging.
---
​Panasonic LUMIX G7 ​Bundle
The final entry on our top 5 list is the Panasonic LUMIX G7 bundle. While this list isn't in any particular order, this would be both #1 and #5.
Why?
It's the weakest camera.
But, it has the lowest price.
Plus, it's a barebone kit.
It has:
Panasonic LUMIX G7 Camera
14-42mm Lens
Mic
and a small accessory bundle
Panasonic LUMIX G7 Interchangeable Lens (DSLM) Camera
This camera is incredible for the price.
It has solid image quality (1080p and 4k,) lots of features, and some great autofocus and stabilization capabilities.
It sports a fully articulated LCD screen and it's relatively sturdy (though it does definitely feel "plasticy")
Overall, the camera is very well priced.
It has a Micro Four Thirds sensor, comes with a lens with f/3.5 – 5.6. And, to top it all off, it can shoot up to 3840 x 2160 — which is insanely crisp.
But, there is one issue for vlogging.
In video mode, it only has 6400 ISO. So, it's basically as good at shooting low-light as our eyes are. You NEED a light kit if you get this camera.
Other than that, the Panasonic LUMIX G7 is superb for a sub $1k 4k camera.
Camera Mic & Accessory Bundle
This is bundle contains far fewer accessories than the previous offerings.
We have:
Rode Microphones VideoMic GO Lightweight On-Camera Microphone
Vivitar Photo & Video Backpack
SanDisk Extreme PRO 32GB SD Card
Wasabi DMW-BLC12 Battery
and a Focus Spider Tripod
---
​Final Thoughts & TLDR
There are tons of camera kits on the market. But, not all of them are made for vloggers. These are my top choices for best YouTube starter kits for vlogging. They're priced well, come with incredible cameras, and have some nifty accessories that you can use to boost your Vlogging game.
TLDR:
​If you want to do vlogging you should pick a camera kit for vloggers

The Canon PowerShot Video Creator Kit camera is absolutely incredible for the price range, despite its low-light capabilities
The Canon EOS M50 camera is incredible, but the kit doesn't come with an extra lens
The Canon 80D DSLR camera is the most famous vlogging camera, but it can't shoot in 4k
The Sony Cyber-Shot DSC-RX100M6 RX100 VI Mark 6 is probably the best camera on this list, but it's expensive.
The Panasonic LUMIX G7 is the cheapest camera on this list, but it will certainly get the job done. But, you'll need a light kit.