The Best Cameras and Lighting for Makeup Artists 2021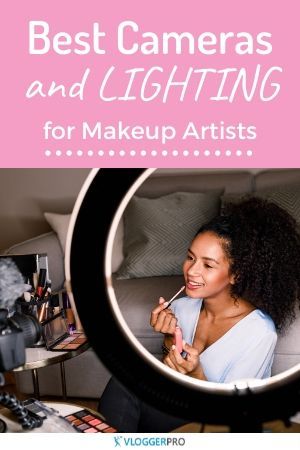 If you're looking for the best camera for a makeup artist, you've probably wondered:
How can I get clear shots to show my makeup work and create my portfolio?
Or maybe:
What cameras can take amazing upclose shots of makeup?
In this post, I am going to tell you about the cameras makeup artists use. You will also learn how they use lighting to achieve those clean images that make their job stand out and look like done by a professional photographer.
If you follow these guidelines with the right—and relatively cheap—equipment, you will be able to shoot pictures and videos professionally to build your portfolio or tutorial channel.
When you finish reading this guide, you will understand everything you need to achieve professional-looking makeup photography and video.
Now, let's get down to business.
**Disclaimer: We are a participant in the Amazon Services LLC Associates Program, an affiliate advertising program designed to provide a means for us to earn advertising fees by advertising and linking to Amazon.com.
What Kind of Camera Do I Need as a Makeup Artist?
There are three types of camera that you can use: point & shoot, DSLR or Mirrorless. However, if you want to make your makeup photography and video look professional, you will need a DSLR or Mirrorless.
There are different reasons why:
Point & shoot are really bad in low-light situations and won't allow you to take full control of the video or picture you're taking.
They generally don't offer as much high-quality shooting as a DSLR because their sensor is tiny in comparison to a DSLR or mirrorless.
DSLRs and mirrorless have what every makeup artist needs to get high quality pictures and videos.
Why?
Better colors and image details thanks to a larger and higher quality sensor)
They are highly adaptable thanks to interchangeable lenses and manual settings (especially for white balance and exposure)
As a makeup artist, you want high-quality image, perfect white balance and good lighting.
The first two are achievable with a good DSLR or mirrorless camera.
White balance will make your colors look exactly how they are in real life. This is what prevents white tones from looking yellow, for example.
As you are probably thinking, the ability to configure white balance is essential for makeup. Colors change depending on the type of lighting in the environment.
This means that different times of the day and light situations will make your colors look different.
See how "bluish" the photo to the left looks? This is bad white balance.
These cameras will let you set manually the color temperature, this will allow you to get the right colors in any situation.
Nevertheless, point & shoot and some camcorders also allow configuring white balance manually, but only the high-end ones.
Getting a DSLR or mirrorless around the same price is better since it will give you much more utility in both photo and video.
They also have larger aperture lenses that improve low-light performance and image detail.
If you learn to use their manual settings, you will make sure all your shots are spot on when it comes to exposure and color balance.
Also, it's very important that you will be able to take pictures in RAW format. This allows you to do a lot of post-production improvements to your photos, especially for color. The best is that this only takes some time and practice to learn.
In general, these large sensor cameras can make your work stand out. They are the only way to go to achieve truly professional photographs of your work.
They might be more expensive and require some basic technical knowledge, but they will serve you well for a really long time if you're a makeup artist.
But hey, this is just my opinion. Let's see what other makeup artists on YouTube are saying about what camera they use.
The Opinion of Successful Makeup Tutorial YouTubers
When I was thinking about making this post, two DSLRs came to my mind for makeup: the Canon EOS 90D and the Canon Rebel SL3.
After looking for the best camera makeup artists were using to shoot professional pictures and videos I found that I was, in a way, right. Most makeup YouTubers are using older models of these cameras.
I did a lot of research and found that Canon Rebel EOS cameras are the most common DSLRs between beauty YouTubers.
There are a lot of people on YouTube shooting high-quality, professional-looking videos about makeup with these cameras.
Of course, these YouTubers also use good lighting techniques—which is more important, in my opinion—, but this is something we'll talk about in a moment.
I want you first to listen to the expert makeup artists that make thousands –and even millions- of people come back to watch their work each day on YouTube.
Sadly, I'm not authorized to say the names of these YouTube makeup artists, but I will tell you how many subscribers they had the moment I did this research. This will give you an idea of the weight of their opinions on this matter.
Here is what camera they use and why:

Makeup Artist #1
Subscribers: 3,252,996
Camera: Canon 600D/T3i
The T3i is what makes the magic happens
Makeup Artist #2
Subscribers: 1,179,017
Camera: Sony A77
This one I recommend if you're looking for doing professional videos on YouTube… It has that very nice professional touch
Makeup Artist #3
Subscribers: 478,007
Camera: Panasonic HDC-TM90
I've been really happy with Panasonic… Everything from how they focus, the reaction time of the focus and everything from uploading on to the computer and the ease of working with the videos…  I recommend a lot Panasonic
The Panasonic HDC-TM90 is the only camcorder I found that was used by a makeup artist.

I believe the reason for this is that she makes a lot of different videos that are not only about makeup. She does a lot of home care tutorials along her makeup videos.

Still, she does use a DSLR (the Nikon D5600 DSLR) to take pictures of makeup.
Makeup Artist #4
Subscribers: 72,878
Camera: Canon 600D/T3i
It is very popular among the entire YouTube community… so I trusted it would do a pretty good job
This YouTuber also talks in one of her videos about what lens to buy. She says that you should only buy the body of the camera and get a fixed lens with at least f/1.8 aperture—and I totally agree with her, you'll see why in a moment—.

She uses a Sigma 30mm 1.4 lens for her makeup.
Makeup Artist #5
Subscribers: 1,306
Camera: Canon 600D/T3i
I would recommend not to go for any video recorder anymore… they're not as useful as a DSLR.
I like this quote because it's just what I think about getting DSLRs and camcorders.

With a DSLR you will be able to do exactly what you can do with a camcorder but you will also have better quality, nice low-light performance and more adaptability. Also, although this is kinda less important, the blurred effect background that looks so good in makeup videos is not achievable with a camcorder.

You can get a lens for any kind of vlogging you want to do, and if you learn a little bit about them you will be able to use the camera however you want.

There are camcorders out there that are much more expensive than DSLRs and still can't accomplish as much.
So, What's the Best Camera for Makeup Artists?
So, what can we learn from these makeup YouTubers?
Well, we can confirm that DSLRs and mirrorless are almost necessary for this kind of job.
As you can see, most of these artists use a Canon T3i. This model is discontinued and its newer version is the Canon Rebel SL3, which is highly improved with more megapixels and auto-focus for video.
With a Rebel SL3 and a proper 50mm large aperture lens you will have exactly what you need as a vlogger makeup artist.
The reason Rebel Canon cameras are so popular is that they have a really good balance between price and capacity to record professional quality video.
However, if you're only planning to build a portfolio of pictures for freelancing or starting your own business, you might want a different camera that can take better pictures.
I'm talking about a camera that is around the same price range of the SL3 but that is better for photography than video.
The Nikon D3500 is the best choice if you're going to show your makeup work mainly with photos. It is cheaper than the SL3 and even better for pictures.
But it doesn't matter what camera you choose, there's a particular lens that you should buy with them.
I recommend buying only the camera's body and get a good fixed lens from the beginning, you can find f/1.8 and f/1.4 50mm fixed lenses for both brands. These are the ones I like to tell people to get. But be careful, it might not be useful for some people. If you want to know more about this, visit this post about what lens to get.
One fixed 50mm focal length lens is what you usually want as a makeup artist. These lenses will NOT cause Perspective Distortion, like wide-angle lenses do. This is really important for your work. You want your model to look as natural as possible. Using a wide-angle lens can make people think your model's face looks weird, and it won't be your fault, but they might think it's because of your makeup.
If the option is available, don't buy the starting lens kit. Sometimes the camera is not available without it or it costs the same with it. You should check if the starting 18-55mm kit costs the same as the body-only version before buying.
You will want a fixed lens for the improved quality, their higher sensibility to light, better details, and total lack of face deformation —if it's a 50mm lens. You will only sacrifice having the ability to zoom in and out, which is something I don't think you should need for makeup.
This is what you should know about your camera. Now, there is another factor that is even more important for makeup work…
Best Lighting for Makeup Artists: The Secret of REALLY Good Makeup Photography and Video
Listen to this:
Choosing the best camera for your work as a makeup artists is a good step, but when it comes to this kind of photography and video, lighting should be your first concern.
Lighting will make a bigger impact in your makeup images anyways, so you want to save some bucks for the lighting kit.
After all, you want to make your work look professional, sharp and highly-detailed. This is simply not possible without proper lighting.
I know what you're thinking:
"But I don't know anything about lighting! Hell, I barely know what a DSLR is, how am I going to achieve good images?"
Don't worry, it is really simple; most makeup YouTubers do it, and they generally don't start with a lot of knowledge about photography.
Here is the basic equipment you will need to achieve professional-level makeup artist lighting.
Ring Lights
The main light you will need has to be uniform. Ring lights are really versatile and work for every kind of photography, but they're especially useful for beauty photography. Probably, the best makeup lighting you can get is a ring light
You don't want any shadow to get in the way of your subject's face. You also want to create specular highlight, which is the unlocking of certain details that are only reachable when using a proper flash on the subject's skin. It also creates a natural-looking diffused light.
Another great thing is that it adds a bright ring to your subject's eyes. This gives them a special effect that catches a lot of attention.
Photo by thematthewknot. Copyright is his. License.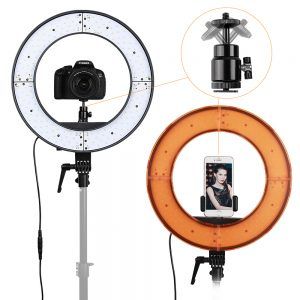 An 18″ ring light is what can give you the most diffused, natural look.
The larger the light source is, the more it resembles natural lighting (after all, the sun is quite large).
The larger ring also gives you enough space to set a camera or smartphone inside the ring.
Best Ring Lights for Makeup Artists
Fill Light for Background Shadow Elimination
If you only use the ring light, you will most certainly create a shadowy background.
Here is an example:
Photo by Nelson Kwok. Copyright is his. License.
See the shadowy background? You can get rid of it with background light.
This is why you could still use an umbrella or softbox lighting kit to light up the background.
Getting a lighting kit will also allow you to work at any time of the day.
And if you use a background backdrop together with the lighting kit, you can achieve the following result with your ring light:
"Focus on Imaging" by Barry Zee. Copyright is his. License.
If there are still shadows when you set your lights or your background is overexposed, try moving the lights closer or farther from the wall behind your subject.
Nevertheless, you shouldn't run into any overexposure problem with the right ISO and Shutter Speed on your camera—something you need to learn when you get your first DSLR.
How to Achieve Great Lighting for Free
If you want to save some money, there are some free ways to achieve good lighting for makeup photography or video.
You can use your windows to illuminate the subject and the background.
You need one window in front of you and a few more behind you to light up the background.
Something like this: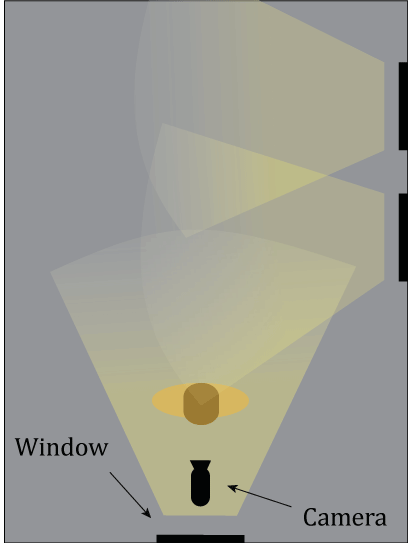 You might want to put some kind of diffuser in front of the window -like a thin curtain- to achieve the effect umbrellas do with the usual lighting kit.
This is a free technique used by some makeup tutorial vloggers like Carina Stewart to light their YouTube beauty videos.
The problem with this method is that you will need to record or take your pictures during the day. This is not a problem if you own a lighting kit.
Also, some days when it's rainy or foggy, you won't be able to get a consistent result. If you're recording, your video might end up with a lot of brightness variations as the lighting situation changes outside.
With a lighting kit, you can control the light at any time and you can make sure you will achieve that soft and shadowless look you need.
Your Turn to Make Your Work Stand Out
Now you should be ready to start vlogging or building your portfolio as a makeup artist.
Remember to always think about lighting. As a makeup artist you want your work to look as clear and with all the details possible. This is only achievable with good lighting.
Now it's your turn to start!
You're welcome to submit any question you have to the comments below.
Good luck and welcome to professional makeup photography!