5 Vlogging Tips for Beginners from Famous Vloggers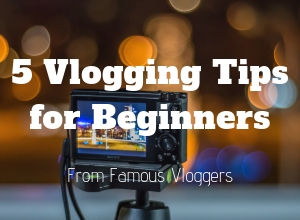 In simple terms, vlogging is just recording and uploading your daily life, but, the inner workings of a successful vlog is much more complicated than that.
Sure, you can stick with shoving a camera in front of your face and talking about your day, but, if you really want to make hyper-engaging vlog content, you need to take some notes.
Today, we're going to take a look at what some of the most famous vloggers on the planet do — and how they do it. Vlogging isn't just about the best equipment, it's also about your mindset and your overall vlogging strategy.
Here are 5 vlogging tips for beginners from famous vloggers. Let's go!
Story is Important (Casey Neistat +10 Million Subs)
If you're interested in vlogging, or already doing it, you probably know who Casey Neistat is. He's one of the world's most popular vlogger (in terms of time, sub count, and recognition.)
Casey didn't start off doing vlogs, he actually started as a filmmaker. Before Casey was filming himself every day, he was working with Tom Sachs — a contemporary sculptor — to produce some films on the artists work. Afterward, he even had a show on HBO entitled The Neistat Brothers, which was about him and his brother.
One of the things that has fueled Casey's success as a vlogger has always been his ability to create a story out of every day. Instead of simply following Casey around, viewers of his vlog are subject to a neverending story, where each day follows a script of sorts.
In his video — How to Vlog Like Casey Neistat by Casey Neistat — Casey lays out how he crafts a story by making each video follow a narrative.
The most important thing (about vlogging) is, of course, the story, but what is a story... every good story follows this rule, you've got a beginning, you've got a middle, and you've got an end. Setup, conflict, resolution."

Casey positions his vlogs like a narrative.
Setup: What's going on? Who is the video about? What's the environment? What feelings and emotions are happening in the video?
Conflict: In a typical story, this would be the part where the villain is introduced, but, in vlogging, this would be where a problem comes up. What's the point of the video? What happens that makes the users want to watch it? This is the conflict.
Resolution: What ends up happening? Is the ending happy, sad, or in-between?
Now, you don't have to have some insane conflict in every video — that's not possible. But, if you go into each video with the mindset of creating a compelling narrative, your video structure and tone will be killer.
How to Deal With the Haters (Roman Atwood + 14.1 Million Subs)
Haters can be hard to deal with when your first starting out vlogging. You pour your heart and soul into the camera, spend hours editing, and spend time writing the perfect script only to have a stream of negative comments blasted at you.
It's especially tough to deal with when you have very few subscribers/views. It can feel like the world pushing you down into a corner. Haters can make you question whether or not you should even be vlogging in the first place.
I get hate for sure. You could find a video of a kitten rolling on the floor with a yarn ball and there would be some nasty comments. You have to become numb to it. Vlogging will acclimate you into the world of the internet."

It's important to take a step back, understand that the culture of the internet breeds haters, and continue on.
You will have haters. No matter who you are. There will be negativity in the comments of every single one of your videos.
The hope is that there will be far more positivity to drown out the haters. If you post your first video, get some negative feedback, and start to second-guess yourself. Just remember this. Having haters is a right of passage for vlogging. Don't let it get to you.
Aim for Consistency (Jonathan Joly + 1.9 Million Subs)
Jonathan Joly's families daily vlog, SACCONEJOLYs, is the second longest running vlog in YouTube history. Joly and his family have posted videos every single day for 10 years. Which makes Jonathan the perfect person to give advice regarding consistency.
Jonathan talked on Video Influencers about working for years to get to 20,000 subscribers (he gets around 100,000 a month these days.)
It was so important to lay that foundation and not be deterred by other people doing more videos or more views than me. I never had a plan to make a big viral video. I just wanted to be consistent. Don't get the biggest audience in the world get a quality audience. Instead of a huge inflated number of subscribers that aren't watching your content. Just have a small amount that will watch your videos subscribe... just be like good quality viewers."

Instead of trying to do over-the-top videos and vlogs every time, be consistent instead. The end result will be a fully engaged audience that will watch your videos and comment regularly.

Find a Passion (Nadine Sykora +400,000 Subs)
Nadine Sykora is one of the most popular travel vloggers on YouTube. She started making YouTube videos back in 2006, which makes her one of the oldest vets on YouTube. She has managed to make a living vlogging her travels around the world.
In an interview with Video Influencers, Nadine talked about having passion.
Find a passion. Find something that you are going to love. For me that was travel. It took me a while to get there, you may not know off the bat so experimenting can be good. I'm on my 10 year anniversary here. Guys, it's not a sprint it's a marathon. You're going to be making videos for a long time if you want to make it here."

Having a passion can help push you on those days where you really just don't feel like vlogging. If you're not vlogging about something you have some passion about — whether that be your job, skateboarding, your family, marketing, or whatever.
Vlogging requires you to upload so much content that it's important to be passionate about what you do. You won't have that sub count at the beginning of your career. Find something that can drive you.
Come Up With a Theme (Ashley Nicole +1.1 Million Subs)
Ashley is another super-popular YouTube vlogger. Ashley does weekly thematic vlogs instead of daily blogs, but she has found the perfect balance between consistency and theme.
Speaking of theme, Ashley uploaded a video on her channel titled "How to Vlog" in which she goes over how important having a theme is to her channel, and gave a little theme advice.
Coming up with a theme for a vlog ever single day is hard, it's hard. Usually, I don't even know what the theme of my blog is until I'm sitting down editing and I'm like, oh, this is what I'll title it. When you finally think of that theme for the vlog make sure to get a thumbnail that fits the theme of that vlog."

Being able to put your video to a theme gives you context for both the title and the thumbnail. Don't just throw up a vlog and title it "my vlog day 1." Use your theme. Whether that's walking your dog or going to the grocery store, use your theme to structure your editing and thumbnails/titles.
Also, make sure you get the name for your vlogging channel right so people can remember you easily.

Vlogging Tips for Beginners Summed Up
These tips were curated from some of the most popular and successful vloggers on the planet. Try to take them to heart and use them. They've been there and done that.
Structure your vlogs like a story with a beginning, middle, and end.
Don't let the haters get to you; keep at it.
Be consistent. People will start to expect your content, and you need to deliver content in a structured and consistent way.
Find a passion. Find something that you're passionate about and use it. It will fuel you to work harder.
Come up with a theme for each video. When you're editing, find the theme of your video and use it to create your thumbnails and titles.
I would add that there's also some legal things about vlogging that you should take into account. For example, most newcomers don't know that they are not allowed to vlog in certain places. So make sure you know the rules of vlogging before you start recording.
There we have it.
I hope that this post will help some of you on your vlogging journey. Vlogging can be tough.
Between the haters and the constant uploading content, you'll have a lot on your hands. But, if the people mentioned in this post are any indication of the power of vlogging, a camera and a content platform could literally change your life.
Good luck to everyone out there. Keep your head up, and good luck vlogging!