The 5 Best Point and Shoot Cameras for Video 2021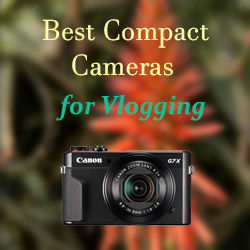 On this post you will find a list of the best point and shoot for video, which are great for Youtube videos and traveling.
Before you even start reading, know that you won't find cameras here under the $400 mark, so be aware. You can check my lists of cheaper cameras by price if you are looking for more budget friendly machines.
**Disclaimer: We are a participant in the Amazon Services LLC Associates Program, an affiliate advertising program designed to provide a means for us to earn advertising fees by advertising and linking to Amazon.com.
List of the 5 Best Compact Cameras for Youtube Vlogging
The Canon G7 X is the favorite camera between YouTubers. This is due to the fact that it seems like designed for vlogging.
Now, the G7 X Mark II has improved this model and made it even better.
This camera has everything you would want in a vlog camera. Its autofocus is incredibly fast and accurate. It really is on point and doesn't lose its focus point easily when you're moving around.
But my favorite feature is its lens. The camera comes with a high-quality lens that could be priced for much more than what this whole camera costs.
It is a f/1.8 24-100mm lens that gives you all the focal length ranges you will find useful for vlogging and it has optical image stabilization.
Its f/1.8 aperture lens can give you the blurry background effect we all like, and combined with its 1-inch sensor, it gives the camera good performance in low light when compared to most compact cameras.
Finally, it has a flip-up touchscreen that you can use to change the focus point while recording.
It also includes a time-lapse video feature you can use to record the videos that YouTubers like Casey Neistat made famous.
This is the camera I recommend for those who want a vlogging camera they can use during the night and day without losing image quality. It is the definition of a camera for vlogging.
Read the full review: Canon Powershot G7X Mark II
If you're willing to pay more than what you need to spend on a G7 X MII, the best option will probably be a Sony RX100 Mark V.
This camera is extremely small for all that it can achieve. It's even 21g lighter than the G7 X, and has more features (although it lacks touchscreen).
The Sony RX100 cameras have been the favorite choice between professional photographers and filmmakers for quite some time now.
Each one of its version has offered a great deal to them since they're basically a professional camera in a very small body.
Its fully manual mode, RAW shooting, high-quality lens, incredibly fast continuous shooting and 4k video recording has made it a really good option for demanding people that are tired of carrying a heavy gear around.
Colors with this camera feel more real than with the G7 X, and it has incredible ultra slow-motion modes with a really high-quality lens and optical IS.
The problem? Its price and battery duration, but the latter is just a problem that comes with all compact cameras. It is a camera well worth the money, but it might not offer the best value to vloggers that don't have the disposable income.
A newer version, the
Mark VI
is available since June 2018. I feature here the RX100 Mark V because its lens is superior for video at 24mm. Also, it's cheaper, so it's a more worthy buy unless you really want to use its huge zoom.
The Panasonic LX10 is the third option of the top compact cameras you can choose for vlogging. It is also the cheapest option between the very best, so you can expect that it can perform a little bit worse in some ways, but the price difference makes it worth it.
To start with the good things, you can expect a faster lens at wide, with the f/1.4 maximum aperture. This is an amazing lens for low light and it's without any doubt, the best feature about this camera.
And this is saying a lot because we're talking about a camera that can also record 4k video, something that even the popular G7 X cannot do.
However, some of the good things about having a fast lens get lost since you can't rely on this camera's autofocus. It often loses its focus subject, so you should probably use the manual focus mode and close the lens aperture, which won't allow you to achieve the blurry background effect you might love.
As for the rest, it is a light, pocketable camera with top-quality recording quality and a flip-up screen.
It is a good tradeoff for the price, and it's the reason why this camera is still at least the top 3 choice between compact vlogging cameras.
Read the full review: Panasonic LX10
This camera is family of the G7 X, and we could say it's a tuned down version of it. So expect a cheaper price and just a few missing features, but it is still a good option if you don't have a high budget.
It comes with a high-quality lens, with f/2 aperture. This gives better performance in low light.
This one is the option to go for if you're really worried about low-light performance and don't care about a flip screen or a viewfinder, and have a relatively small limit on how much you can spend.
This one comes however with touchscreen and a time-lapse video recording option already installed.
You will basically give up a flip-out screen for these helping features. I know a lot of people don't believe a vlogging camera is worth if you can't see yourself while you record, but the fact is that it isn't completely necessary.
These cameras come with a wide-angle focal length that allows you to record yourself without fearing that you won't be inside the shot.
Consider that you're just giving up features that are not 100% needed in exchange for a better image quality. This camera is also really small and lighter than the rest on this post.
Its battery life is shorter than the Sony's and its zoom is not nearly as large, but the latter isn't something you should worry about for vlogs and you can get a spare battery to solve the other.
You might be interested in: The 7 Best Canon Vlogging Cameras
Sony DSCHX90 – Best Cheap Compact for Vlogging
This camera is not the cheapest in the market, but it might the cheapest option if you want to go for "one of the top cameras". However, the first thing you will notice is that it doesn't have a flip screen, but the camera compensates it in other features.
The Sony DSCHX90 is one good camera that truly gives you just what's necessary for vlogging, but it adds a little bit extra quality, especially for low light.
It isn't expensive and has autofocus and 5-axis image stabilization. It also has a flip-up screen, although it isn't a touchscreen.
Its performance in low light isn't even close to the G7X M II's because it has a lower quality f/3.5 lens and smaller sensor. It doesn't give you as good blurry background effect as the Canon camera. But considering their price difference, this is still a fair deal, especially because it comes with a flip screen.
It can record up to 1080p60 and you can download apps if you want to add functions like time-lapse to your camera.
This Sony camera's quality is just great even in low light, and it all comes for a bargain price.
You might be interested in: Best Cheap Vlogging Cameras
Final Words: Why a Compact Camera is The Best for Vloggers
I'll just tell you that getting a high-end small camera for vlogging is well worth it. These are perfect to have for this kind of job. It's not fun at all to carry a heavy gear around just to get a cinematic feeling.
In fact, believing you can't achieve this result with a compact camera is a ridiculous myth.
It really is worth being able to take your camera out wherever you are and start recording. This is how the best videos are done; you don't know when inspiration is going to hit you.
The compacts you'll see here are all good for video blogging — with even better recording quality than some DSLRs. And still, some of them do have many incredible features that are really good for a professional photographer or filmmaker. You do not need to get the most expensive camera if you just want to vlog.
The cameras I chose for this list are especially good for this job, and they are often bought by established vloggers. Especially the first 3 cameras: the Canon Powershot G7X II, Sony RX100 V and Panasonic LX10.
These three cameras have all you'd want for vlogging: a good quality lens for low light, OIS, good recording quality and the treasured flip screen.
This is why these three cameras are featured in all of my top vlogging camera lists.
After choosing one of these, you can go for a windshield for your camera to improve its sound quality, or even better, get an external recorder and a good mic to improve your audio.
You'll be ready to go and start creating awesome content for your channel. Now is when creativity will take its part.
Hope this was helpful. Let me know any questions you have.
Good luck!