Top 7 Best Vlogging Cameras Under $200 [2021]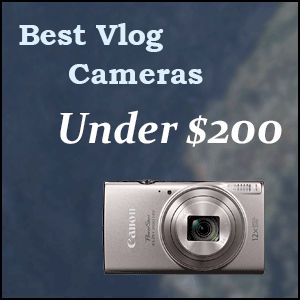 Like I always say, the most important thing you need to do if you dream of running a successful video blog channel is starting right away. This is why I've made this list of the best YouTube vlogging cameras under $200 to fit your budget.
If you want to start making content and don't have a proper camera already, this guide will help you to get started.
These prices are pulled from Amazon and are constantly changing, so they may vary from the day the article was written and some cameras can cost slightly more than $200.
**Disclaimer: We are a participant in the Amazon Services LLC Associates Program, an affiliate advertising program designed to provide a means for us to earn advertising fees by advertising and linking to Amazon.com.
Our Top 3 Picks
How to Find the Perfect Vlogging Camera
Image Stabilization
When you're recording video and you're moving around, your video can get really shaky.
That's why image stabilization is one of the first things to look for in a vlogging camera.
For this price range, the cameras that you'll find that have the best stabilization will be the action cameras and camcorders.
Since most point & shoots were made mainly for photography, most of them don't have good stabilization.
Still, there are some exceptions, and we'll list them on this post.
Something that helps with stabilization is getting a small tabletop tripod and use it to hold your camera while you record your vlog.
This will also help you get the camera further away from your face so people can see more of your environment. Or else, your face will occupy the entire frame!
Flip Screen
Vlogging without a flip screen can be pretty hard for a newbie, especially when you're using a small camera with a small sensor.
The reason is that the flip screen will allow you to make sure that your camera is recording and that you're inside the frame.
Nobody wants to record a 10-minute video just to find out that your camera stopped recording at minute 2.
Ugh.
It has happened to me before, so I think a flip screen is almost mandatory.
Unfortunately, it's pretty hard to find a camera with a flip screen for under $200. That's why we suggest that, if you have this budget, start with your current smartphone.
Sometimes it doesn't matter if your phone records video that is a bit lower quality. If you can see yourself and you can record decent audio, you can create and grow a YouTube channel.
I have a Nigerian student who built her channel from 0 to 1,000 subs with only 12 videos while using a really old phone.
The image quality of her videos wasn't good, but it was good enough. What mattered was that her content was helpful and valuable.
Wide-Angle Lens
A wide-angle lens is also vital if you want to record yourself while walking around.
Since you'll have to record with the camera close to your face, you need a lens that can zoom out enough to capture your big head — just kidding — and your surroundings.
Using a tabletop tripod for handheld recording will also help you with this.
Autofocus
Another frustrating thing we often have to deal with is poor autofocus.
We want the autofocus to constantly focus our face, no matter how much we move around.
It's difficult to find good autofocus for this price, but there are some that work well.
They might be a bit slow, but if you choose the right camera, autofocus won't be a big problem.
Sensor Size
Technically, the bigger the sensor of the camera, the better image quality it will achieve.
However, if we go fo a size that is too big, the camera will be too heavy to carry around.
That's why for vlogging we prefer medium sensor sizes (Micro 4/3 or APS-C).
Sadly, for under $200, we can't afford a camera with a medium sensor size. We'll have to sacrifice this aspect since this budget is only enough for camcorders and point & shoots.
You'll have to deal with low quality in low light.
The good news is that you can offset this by recording exclusively during the day, or by having a cheap lighting kit at home.
Audio recording quality
It doesn't matter if your video looks beautiful if people can't hear what you're saying.
For vlogging, you'll want a camera that has the microphone located on the front.
Since you'll be talking directly to the camera, if the mic is located at the frontal part of the camera, it will pick up your voice better.
I also recommend getting a windscreen because it will block the wind from making too much noise in your video.
But the best audio quality will always come from using an external microphone.
But it's difficult to find a camera with this feature within this price range.
The alternative will be to connect a microphone to your smartphone or another external recorder and then sync audio and video in your editor.
Image Quality
Everybody wants to record in 4k nowadays, but the truth is that 4k is just overkilling it — especially for YouTube.
Most cameras nowadays can record 1080p, but you can even go for something that can only do 720p and save some money.
I do recommend getting a 1080p camera because, you know, 720p is sooo 2010.
Also, you want to pay attention to the frames-per-second. This will determine how "smooth" your video looks.
For YouTube, I like to use 24 or 30fps. But most cameras can do up to 60fps (but you don't need it).
Things You

Don't

Need in a Camera for Vlogging
If you want to find the perfect camera for less than $200, you'll need to make sure you ditch a lot of features you don't need.
This will allow you to get the most for your money.
Here are the things you should ignore if you want a camera for vlogging:
Zoom
As we said before, you need a wide-angle lens. You can ignore those cameras that have a lot of zoom.
This is useful to record your kid's baseball game, or even for shooting wildlife. But for vlogging, it's completely useless.
Connectivity (WiFi, Bluetooth, etc)
This is nice to have, but you don't need any of it.
I know it might feel weird nowadays to use a cable — a cable! can you imagine!? — to transfer your videos to YouTube.
But you can certainly sacrifice these features if you want a really cheap camera that is still useful for vlogging.
Megapixels
Probably the most common marketing trick these brands use to sell their cameras is the megapixels.
This doesn't mean anything, really.
Megapixels will only matter if you want to print HUGE pictures.
I'm talking about really big posters. Most cameras can print a portrait size just fine.
It certainly doesn't matter for video quality. So ignore megapixels completely when picking a camera for video.
Review of the Best Vlog Cameras Under $200
Canon VIXIA HF R800 – The Best You Can Get for (almost) $200
I really wanted to mention this one because it's the lowest priced camera that has everything for vlogging.
The problem? That the price is slightly above $200, but it's still pretty close.
I'm not talking only about the 1080p recording.
It also includes flip screen, an external microphone port, and image stabilization.
Stabilization is the essential feature, and I don't think I'll ever recommend a camera on this site without it. But flip screen and external microphone port are things that only camcorders can give at such a low price.
Camcorders have extremely small sensors, which is why they are the worst choice for low light. But in this price range, I don't think there's any compact that can truly beat one in low light.
The Canon ELPH 360HS—which we'll see next— is better for low light, but it still lacks these two features all vloggers love.
However, you can still find a camera that has almost everything for vlogging for around $50 less.
Read the full review: Canon Vixia HF R800
I personally would prefer to use a camcorder rather than a GoPro for my vlogs.
People don't really care about 4k quality. As long as you can record 1080p video, most people will be satisfied.
This camera can do just that and also has nice 5-axis image stabilization and a flip-out screen.
It even has WiFi connectivity so you can upload your videos easily to your PC, and later to YouTube
It has most of what you need — excepting external mic input — to record high-quality, stabilized vlogs.
Something else that you don't really need, but it's nice to have it's the massive 90x zoom.
So if you're looking for a camera that you can also use to record some family videos, the Panasonic HC-V180K is a nice option.
This is probably the camera with the highest image quality you'll find for under $200.
It can record at 4k with a resolution of 4096x3072px. But it can also record 1080p at 60fps, which will also allow you to record slow-mos.
However, you'll sacrifice a flip screen and external mic input.
But this isn't too much of a big deal because you can still use your smartphone to record external audio with a lavaliere mic. You'll just need to sync the video from the camera with your phone's audio recording.
Also, bear in mind that this camera has, basically, a fisheye lens.
So this means that it's so wide-angle that you don't need a flip screen to make sure that you're inside the frame. It will capture a really wide-angle range, so can be sure that you'll be inside the frame if you point it at yourself.
Canon PowerShot ELPH cameras have been the choice of many vloggers when they started. Starting from the ELPH 330 that was released back in 2011, these cameras are often used to record video blogs that involve a lot of walking around and carrying the camera with you.
The Canon PowerShot ELPH 360 HS is really good for this purpose because it's a really slim camera that has an average battery life and can record Full-HD video.
The only real bad thing to say about this camera is that its performance in low light could be better, but this is something you can't get away from at this price range.
Since this is the kind of camera that was made to be carried around and record 1080p, it doesn't come with a microphone input. However, one of the main reasons why the ELPH cameras are often used for vlogging is that they come with front-facing microphones.
This is ideal for vloggers because cameras that have microphones on the sides or rear are not fit to record in an uncontrolled environment—like walking around the street. This camera's microphones are able to pick up your voice over the ambient sound since they are located on the front of the camera.
One of the main reasons why this camera is in this list is because it can record in MP4. While the s6900 is cheaper, it doesn't provide a way of recording in this easy-to-edit format.
Finally, this camera comes with built-in WiFi that works just fine to upload videos directly without having to connect a cable to the computer.
When compared to its previous version, the 350 HS, I'm not sure it's a big upgrade. You will get less battery (180 shots instead of 220), but it now includes manual focus, which is actually pretty useful for vlogging. If you set the camera's focus correctly, you will know your being focused as long as you don't change your distance from the camera.
It's basically a trade you can consider bad or good depending on your needs, but there's no longer many options since the 350HS has been discontinued.
Not as good as the ELPH 360, but a lot cheaper. Still, the ELPH 190 doesn't stand as far from its cousin.
After all, it can record only up to 720p instead of 1080, but it still does everything else just as well or better than the more expensive ELPH 360.
First of all, it's slightly lighter and also has a slightly faster lens. It also has around 10 shots more of battery duration.
When you compare the two of them in every aspect it looks like the 190 HS half a step better in everything but the max. recording quality.
And although it does have a smaller zoom, this is a feature you won't care about if you're a vlogger, since you will barely use it.
What I do believe is a big downside in front of the ELPH 360 is that this one doesn't include a manual focus, which can be really handy for vloggers. The 360 is worth its extra cost because of it, and also for its additional ISO step. But, without any doubt the ELPH 190 IS is a great option if the 360 is beyond your budget.
Even though you can find this one on Amazon as an "older model of the ELPH 190 IS", these cameras were announced on the same date. This is just another version, cheaper and that gets rid of some things you might not miss on the 190 IS, which is a really clever move and something a lot of people will thank Canon for.
The most significant thing this one is missing when compared to the 190 IS is the WiFi connectivity. This might be a deal-breaker for a lot of people, but many don't mind using a cable to transfer their videos if they saved a significant amount of money for it.
Also, you're not only getting less, you do get other benefits the 190 IS lacks, although they're very small.  For example, the camera is actually 12g lighter and has more battery life (around 30 more shots).
It does lack a real continuous shooting mode, but this is something you won't miss if you only use it for videos.
So, as a vlogger, you won't mind paying a lot less for a smaller zoom —since you won't need it because you need to record in a wide angle— and you won't miss being able to shoot photos as fast.
The price difference is pretty significant for a lighter camera that does almost the same, although it lacks wireless connection.
If you think about action cameras, you immediately remember GoPro. After all they've been the kings for a while. Unfortunately for them, YI has made a 4k action vlogging camera for a cheaper price that works almost just as well.
One of the troubles I have with GoPro is that I know they could offer a camera that can record the best quality for a much cheaper price, but they just don't want to do it.
I know that action cameras can be a lot cheaper because they don't even include a zoom, and prime lenses are extremely cheap for their quality. They also don't have to include more than the basic photography features.
Good thing is that YI took advantage of this situation to offer their own good cameras for a much cheaper price (I bet now GoPro is planning the release of a "budget" camera to be able to compete with them).
The YI 4k Action Camera is actually slightly lighter than the GoPro HERO 4, it can record 4k video at 30fps and 1080 at 120fps for extremely slow-motion videos.
And just like the GoPro, it has a wide-angle lens that isn't zoomable, but comes with really decent battery duration. It can record up to 2 hours of 4k30 video, which almost doubles what the Hero4 could.
The downside when compared to the GoPro is probably its audio quality. This is something that doesn't surprise me, as the camera already offers a lot for its price. This can be a huge deal when it comes to action cameras, since if you need it for an action environment, there might not be many ways for you to record with an external device. Be aware of this if you need to record really loud sounds (motorcycle racing would be a good example), or a lot of wind.
Still, if you want to do the typical vlog about your day and you're not interested in extreme videos, you will do better with another camera from this list —even if it can only record 720p. The wide-angle lens from action cameras can make your viewers uncomfortable and even dizzy after a while.
Be Aware Before Buying One of These Cameras
Since these are budget vlogging cameras, most of them don't feature an external mic port.
This means that with most of them, you will face low-quality sound recording. Their videos can become useless if there's too much wind, for example.
That's why it's important to include an external microphone port in your budget. It's really important you invest in a good microphone if you want to do anything related to vlogging.
They also don't perform too well in low-light situation. This is why I recommend you to record only during day-time. Also, you should open all your windows are use some additional lighting so the video quality is not affected.
Remember that camera sensors are not like the human eye; they are not as sensible as we are to light. If you can't record during the day, you will probably have to set some lighting before recording.
Why You Might Not Need to Get One of These Cameras
If you're not willing to spend more than $200 on a camera, then consider simply using a camera that you already have.
Most of us got already a decent smartphone in our pockets. So use your phone's camera instead.
In fact, you don't need a high-quality camera to grow an audience on YouTube.
What you actually need is to create good content.
Plenty of YouTubers still use their smartphone to vlog.
So instead of wasting all this money on a camera that isn't even going to record high quality video, just invest in having a good content strategy.
That will give you 10X the results than what good equipment can do for you.
I have a 1 hour+ free course that will teach you how to grow your channel, and it will do more for you than any camera that money can buy.
I was able to grow my channel in just 1 month while using a cheap webcam I already had at home using the strategy that I'm going to teach you.
So if you want to really grow your audience on YouTube, just watch the free course instead, and you'll get much more (and you'll save money too).
Explore Equipment for Vlogging