The 5 Best Vlogging Equipment Essentials for Beginners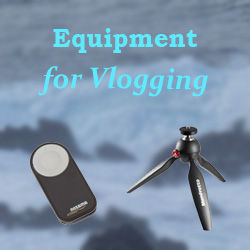 Here I want to show you the different tools that will help you get started with your YouTube channel. They will make your life as a vlogger easier. They will also save you money and a lot of recording time. Here I include all the best vlogging equipment that is essential and also a bit more that can let you achieve unique videos.
**Disclaimer: We are a participant in the Amazon Services LLC Associates Program, an affiliate advertising program designed to provide a means for us to earn advertising fees by advertising and linking to Amazon.com.
Microphones: Your Most Important Vlogging Equipment
The most important tool for vlogs you will ever need is a good microphone. It is really important that your viewers can hear you well. If they can't, they will just stop your video and will go away without subscribing to your channel.
For me this is the most important YouTube filming equipment you can think of. If you have bad sound, you have no followers. It's that simple. Not even your camera is as important.
A good microphone for vlogging has to suppress the background noise and it needs to make your voice as clean as possible.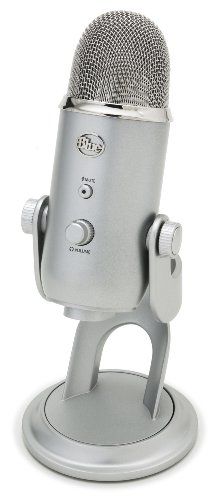 When choosing the right mic, you got a few options:
If you can use an USB microphone, by all means buy one of these. They offer good quality for the price, and they are good at suppressing the exterior noise pretty well. If recording next to your computer isn't possible, you will need to get either:
A lavaliere microphone to connect to your camera's microphone input.
An external recorder like the popular Zoom H1, and a lavaliere microphone to connect to it (if your camera doesn't have mic jack).
A shotgun microphone if you have a DSLR or a camera with hot shoe. These mics are also of great quality, and are my favorite after USB.
One of the most popular microphones between YouTubers is the Blue Yeti. In general, mics from Blue are an common choice between YouTubers, but there are other great brands out there for USB and non-USB microphones.
If you're wondering what kind of mic you should get, you should check my buyer's guide here: The 10 Absolutely Best Vlogging Microphones for YouTube.
Lighting: The Real Difference Maker in the YouTube Starter Kit
No matter what kind of channel you have, if you want it to look professional, you will need to control your lighting.
Most cameras can record high quality video as long as there's good lighting. Investing some money in lighting equipment will actually improve your camera's recording quality. You can even get away with a really cheap camera if you just have a good lighting setup.
Using good lighting will make you look healthier and it gives your video a professional look. Make sure not to forget about it if you are recording from home.
And the best thing is that you can build your own lighting on a budget.
You can first try to control the light sources —either artificial or natural— that you already have at home. You can achieve good lighting for free if you're lucky enough to have a good amount of windows in your room. You can combine them with any lamp you got laying around that can display a bright light.
But, if you don't have good lighting sources at home, you can use the following lighting kits. Know that the kind of lighting you want to get will depend on the kind of content you're creating:
Ring Light
Basically any beauty channel owner will want a ring light for their videos. This kind of lighting removes shadows from your subject's face with soft, even light. And its brightness lets your colors shine with purity.
There are plenty of good options in the market for this kind of lighting. Some of the most popular choices are:
This one is probably the cheapest ring light in the market. This is both good and bad. It is good to have this kind of lighting available for a cheap price, but you must know that it is also the one with the poorest quality. There are some reviews about this lighting stopping working a few months after buying, so be aware.
Another important thing to notice is that it does not come with light stand and diffuser, and it isn't dimmable. It only comes with a carrying bag. You will need to buy a light stand and you will also need either a tripod or a hot shoe adapter for your camera.
I would probably save and invest in one with better quality build. But still, it is an option if you're on a tight budget. It does achieve a really nice result for the price.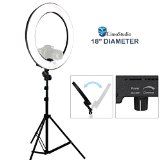 This is my favorite option because it offers A LOT of value for your money:
It comes with a diffuser, a light stand, the hot shoe mount screw for your camera, a carrying bag and it's dimmable.
This last feature allows for three levels of light intensity: low, medium and high. This way you don't have to stick with the highest intensity, which can be uncomfortable.
Fill, Key and Background Lighting
Even if you already have a ring light, you will also want more lighting to make your background brighter. Since your face will be a lot brighter if you don't, causing background to look completely dark.
Also, these lighting kits will let you record at night.
If you don't buy a ring light, you will need at least one of these to give your videos a much better look and to allow you to record at any time: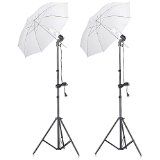 This is the one you should get if you already have a ring light. With this kit you got two bulbs with their umbrellas and light stands.
You could use the two bulbs to light up the background if you have a ring light; this improves a lot the aesthetics of your video since you won't have a shadowy background.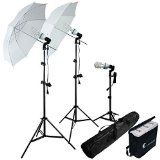 This one is another good option, and the one you should consider if you don't think you'll get a ring light. But, you can also use it if you have a ring light.
You can use two of the bulbs with the umbrellas for your face and the remaining one for the background. Notice that even though it comes with three lights, it only comes with two umbrellas.
However, it also comes with two carrying bags for the umbrellas and bulbs, and three light stands (one of them is a lot smaller, but still works for the background light).
Backdrop
If you want to give your channel a more serious, professional look, you will need a backdrop.
It's not needed for all YouTube channels. Some people prefer showing their rooms in the background, and that's fine; it says "Hey, this is me, this is who I am", and it is a way of getting a closer relationship with your viewers.
However, others will want to be more formal, and that's when backdrops become more important. They give your background a uniform, clean color that says "I'm a professional; I know what I'm doing". Backdrops are also really good if you want to introduce text in post-production, and you can also use a green screen to cut out the background and replace it for an artificial one.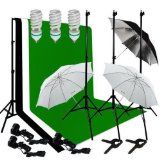 This one is basically an all-in-one professional lighting kit. It comes with all the lighting you will need for key, fill and background light; it has three bulbs with their light stands and umbrellas. It also comes with three backgrounds: black, white and green. You will only have to buy the clamps, but they're really cheap.
You would think that buying all this straight away in a combo should be more expensive, but comparing it with other backdrops on Amazon, this set is actually cheaper.
You won't have to worry more about lighting if you get this combo alone.
If you only want the backdrop (maybe you already have lighting you can use for your videos), the LimoStudio Photo Video Studio, AGG1112 is a good option. You will have to get the background and clamps for an additional price.
Check out our extensive guide on lighting for Youtube vlogging
Dude, Where's my Camera?
The third most important vlogging gear is, of course, your camera!
Yes, I know people wouldn't be able to see your lighting if you didn't have a camera… but well, let's ignore that. I just want you to worry more about lighting and microphones than your camera.
Since this website is full of camera reviews, I'm not going to talk about them here. Instead, you can visit any of the posts that I've written here, according to what you want:
I also made a guide on what lens to buy if you get an interchangeable lens camera.
Also, another alternative is getting a video starter kit bundle. These are bundles that include everything you need to start with video creation: microphone, camera, tripod, batteries, memory cards, and even more.
So now let's see more stuff that will make your vlogs easier to record, although some of them are necessary.
General YouTube Vlog Accessories
Best Tripods for Youtube starters
Tripods are the photographer's best friends. For vloggers, they allow them to record themselves without the need of a camera operator. These are necessary 80% of the time you're recording from home, no matter if you have a camcorder, compact or DLSR.
Here are some simple tripods that will work just fine for this job: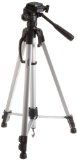 Getting the popular AmazonBasics tripod is the safest bet. It is light, cheap and it comes with a bag to store it and carry it around. This tripod is more than enough if you just need it to record from home. You will need to get a sturdier tripod only if you plan to record outside.
If you want a sturdier tripod, the following is a good option: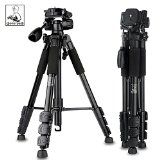 This one is more stable and even lighter than the AmazonBasics, and it also can reach another step higher if you need it.
However, if you want to vlog in selfie mode, you will be better off with a tabletop tripod.
Tabletop Tripod
What's better than a tripod? A Small tripod. This kind of device also works great depending on your recording setup. If you have a table lying around, one of these will work fine. They don't occupy too much space and are easy to carry around.
But the best thing about them is that they can also be used as a vlogging stick. For vlog recording, there are 3 very popular models: the Sirui 3T-35K, the Manfrotto PIXI Evo 2 and the JOBY GorillaPod.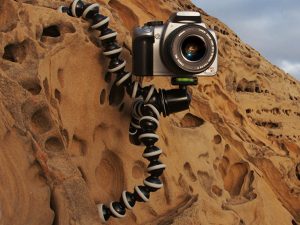 A GorillaPod is basically a compact tripod that is highly adaptable to different surfaces. As a vlogger, the best use you will give it is as a kind of vlogging camera stick for your DSLR, compact or mirrorless camera. If you have a DSLR and want to take it out, you will need at least a 24mm lens and a gorilla pod to be able to capture your face while holding the camera.
GorillaPod are the most popular for vloggers. However, something you should be aware of is their size and weight. There are many models available and if you have a DSLR, the GorillaPod you will need will be quite heavy. It can get tiring to hold such heavy equipment for a long time while recording.
This is why I actually like more the two models I told you about above.
You can read here a deep comparison I made between the three tripods.
Vlogging Camera Sticks
If you instead want a dedicated vlog stick, even though the above tripods are more versatile and will do well as selfie sticks, there are more dedicated options that are cheaper, although they are not so durable and versatile:
If you are only going to use your smartphone, you can get this stick for a cheap price. You can only use a smartphone with it, so that's why it's so cheap. It is really small and light to take around, and it has a nice wrist wrap so you don't drop your phone to the ground.
It's very simple but it does what it's supposed to do.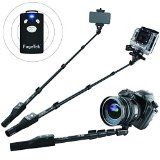 If you need a camera stick for a camera with the threaded opening in the bottom, which is usually there to use for monopods and tripods, you can use the Fugetek FT-568. It also comes with an adapter for smartphones so you got a selfie stick usable for both.
There are two sizes available: 32″ and 49″. You can also use your camera's zoom through the controller on its grip.
Remote Shutter
A remote shutter lets you start, pause or stop recording your camera from a distance. They allow you to stay where you're at if you need to repeat a take. They make recording videos a lot easier and you can find them for a really cheap price.
The good thing is that you probably won't have to invest money in one; most cameras come with WiFi, which allows you to use your smartphone to control them.
If your camera doesn't have WiFi, you will need to get a remote shutter that works with your camera. You don't need to get one of the fancy that lets you change the shutter speed and the general setting of the camera. One that you can use to start and stop recording is enough.
There are wired and wireless; you will need to choose one according to your needs and camera.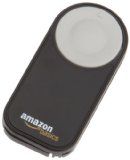 Even though it says it's for Nikon, it also works with other brands, as long as your camera has infrared. It's the simplest and cheapest remote shutter you can find, and it works just fine.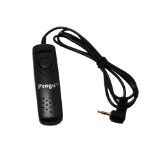 If your camera doesn't have infrared, you will need a wired remote shutter. This one is the simplest and cheapest you'll be able to use. It also works for other brands, not only for Canon cameras.
If you want a remote shutter that can also control the manual exposure, aperture and ISO, you will need to look for one specifically for your camera model.
Backpack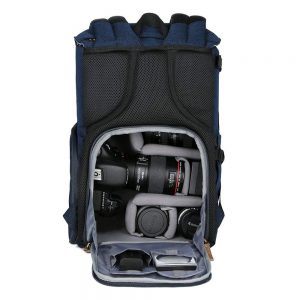 An extremely important piece of equipment most people don't think about when starting their vlogging activities is a proper backpack.
Vlogging equipment is too fragile—and expensive—for you to think lightly about this.
You can, of course, use any a backpack you have at home, but there are specialized backpacks that come with compartments you can adapt to your equipment so it doesn't move around and clash with each other.
This can help preventing any scratches or damage to your camera and lenses, which are the most expensive equipment you will carry with you.
We've made a nice top list of the best backpacks for this so you can choose the right one for you.
Editing Software
Something all vloggers need is an editing software. Funny enough, most of you don't realize it until you finish recording your first video and have to find a way of putting everything together. Here I will show you both free and premium editors you can use for your work.
Free Editors
If you only need to cut, paste clips and insert some basic text, you can go with a free software, although something premium will give you more advantages later on.
There are many more options out there, but these two are the most popular
Premium Editors
The following editors are used by professional editors for all kinds of work. They are also popular for YouTube due to the competitive advantage of having good editing for your videos. You won't see a top vlogger with bad editing —although most of them hire a full-time editor.
These apps offer thousands of options and functions, and they are more efficient when encoding video than most free apps.
Here's a Wild Idea… What About a Drone?
Let's face the truth:
This is a premium tool. Not at all needed for vlogs. A big boy's tool if you may. But darn it, they are fun and can achieve unique shots.
But in all seriousness, they aren't toys; they will allow you to record some unique, entertaining, creative and attractive content.
There are many drones in the market, but the most popular ones for video are the DJI Phantom. There are many models of this drone at different price ranges, so I will guide you through their differences here.
The price difference between these drones are related to how much of them you can control (including the camera's manual mode), the recording quality of their camera, how far they can fly, GPS quality and how well they stay in position and how easy they can land.
You will basically need to choose one according to your budget, as for these drones their quality is very much attached to their price (although some of these only offer 4k recording for the extra price):
This one is the most affordable drone that is worth buying. It records 2.7k video, which isn't bad at all since most people won't notice the difference between 4k and 2.7k. On the other hand, you can't control the camera's exposure manually, and the control doesn't come with a good attachment for your tablet.
It is a drone that only comes with the basics for people that want to achieve unique drone shots for the best price.
This one is basically the Standard version I just talked about, but it can record 4k video. It is the cheapest 4k drone you can buy, so it's still well worth if you really want that quality. If you ask me, a lot of people won't notice the difference between 2.4k and 4k, so I would go for the Standard version.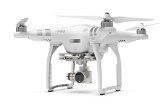 This one doesn't record 4k video, but basically everything else about it is better. It can record from a farther distance —around 4 or 5 times farther than the above models. It also has great GPS and better controller.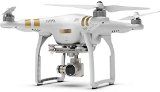 This one is not much different from the Advanced version. This one can record 4k video and has a faster charger that takes less than an hour to fully charge. The rest of the features are pretty much the same; it still has amazing GPS, good controller and can travel 3.1 miles away from you.