The 5 Best Sony Vlogging Cameras 2021
Sony cameras are one of the most suitable for vlogging. They manage to bring together the best of DSLRs and compact cameras in a single product. Their capacity to record DSLR-quality video in a small body makes them good vlog cameras. This is why Sony is turning into the favorite, not only for vloggers, but also for professional photographers. Here you will find the 5 best Sony vlogging cameras.
**Disclaimer: We are a participant in the Amazon Services LLC Associates Program, an affiliate advertising program designed to provide a means for us to earn advertising fees by advertising and linking to Amazon.com.
5 Best Sony Vlogging Cameras
What Makes Sony Different?

Sony is taking over the mirrorless market and is going all-in with it. After many years of trying to beat Canon and Nikon in the digital camera industry, Sony has finally found their element.
Mirrorless cameras seem to have a great future ahead. They actually look like the next step in camera technology — even replacing DSLRs.
There are good reasons to think this:
They don't have mechanical parts to shoot a picture, so they are less likely to suffer a malfunction.
They give good, cinematic quality in a small size.
They get rid of the annoying side of DSLRs while still having amazing quality.
They also have a wide variety of high-quality lenses you can use for specific situations.  And some of them can use lenses from other expert brands with an adaptor.
It might be too soon to say they are going to replace DSLRs. The fact is that this isn't going to happen soon, but in a future it will. These are just the first generations of the cameras that will end up taking the mid-to-top-end camera market.
They still have some downsides that you need to bear in mind. The most important one is that they have lower battery life than DSLRs. Good news is that this is easily fixed by getting a pair of spare batteries.
There are also some things professional photographers find annoying about mirrorless. Things like viewfinder lag are always in the word of mouth, but most of the times it's just resistance to change.
The truth is that for vloggers, mirrorless is the best option and will likely remain that way. That is, if you want the best value for your money in the long run.
You can always start with a compact camera if you don't want to worry about lenses and just want to point & shoot.
Review of The 5 Best Sony Vlogging Cameras for YouTube
The good news for vloggers is that most of these cameras have a flip screen. The bad news is that most of them lack a microphone port. Still, there are external microphones that you don't need to connect to a camera.
Bear in mind that this is an unordered list, which means I'm not putting these cameras in any sort of priority. They're all the best Sony vlog cameras and will fit different vlogging needs and budgets.
Sony Cyber-shot DSC-RX100 V – Best 4k Camera for Daily Vlogging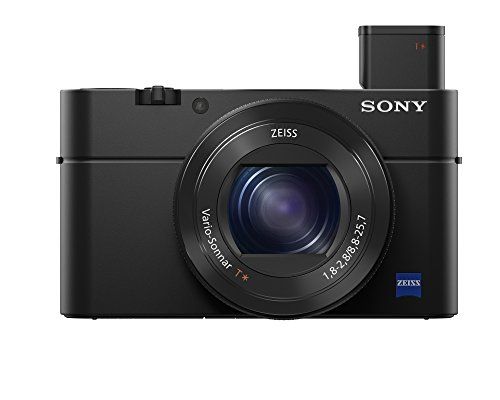 The first two cameras in this list are non-interchangeable lens cameras. They offer, let's say, the most general needs for vloggers. If you don't want to worry about lenses, the RX100 Mark V offers the highest quality video for vlogging.
This is the first camera from the RX100 lineup to finally include a flip screen.
It comes with good image stabilization, which lets you record while moving without making your video shaky.
Still, what seals the deal is that it can record 4k video and that has a good max. lens aperture for a compact camera —f/1.8 at wide. This lets the camera capture more light indoors or in foggy days. You can also get the blurred background effect if you want it thanks to this wide aperture.
This is essentially what makes this camera high-end —besides having a full-manual mode available.
This camera has really good quality and good video quality, but it might not be the best option if you want to use it only for vlogging.
This is a camera that you should get if you want to use it also for photography. Its price isn't the best if you just want it only for vlogging as you will be missing a lot of cool features —but will be playing the same price.
If you want a camera that is more focused for vlogging and slightly cheaper, you should check the Canon Powershot G7X Mark II.
Read the full review: Sony RX100 Mark V.
Sony Alpha 7S Mark II – The Best Mirrorless Camera for Vlogging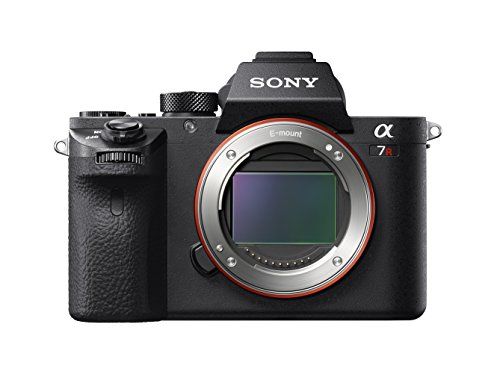 The Sony A7SII is a high-end mirrorless camera made to be able to record in conditions no other can.
It's not a cheap camera because you can't really argue with its capacities of recording in low light. It's the best mirrorless for low-light thanks to its full frame but also due to its amazing image quality at high ISOs.
The ability to record 4k isn't the most impressive thing about this camera. After all, almost all Panasonic cameras can do it and are a lot cheaper.
In fact, many would prefer the Panasonic GH5 instead of the Sony A7SII due to the Dual I.S., comparable image quality, weather sealing, price, and user-friendliness—but a lot heavier.
However, this one becomes the only option if you need to make sure you can record whatever you want in extremely dark conditions.
Also, we are talking about a much larger sensor with better Bokeh effect, and it's also lighter compared to the GH5.
So if you decide that you want to go all-in and truly want to commit to Youtube and vlogging, the Sony A7S II is probably the best option in the market.
There's a reason why this camera is used by top vloggers like Jake Paul.
Sony a6400 – Best Value Mirrorless for Vloggers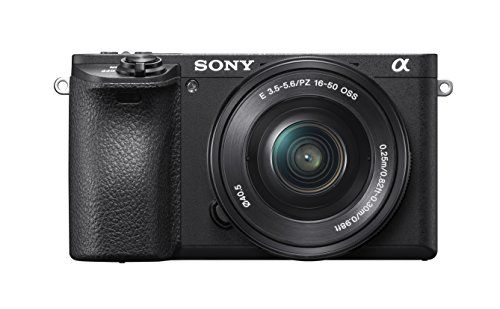 The Sony a6400 is one of those cameras that with one simple change would've been perfect.
When it comes to vlogging, this Sony camera is basically only lacking internal stabilization.
Too bad because you will need a lens with stabilization, but that's not the end of the world either.
After all, most cameras available don't have internal stabilization—except the most expensive ones.
The good thing is that it has the best autofocus you'll be able to find right now. It's extremely accurate, and it's the fastest autofocus available.
Its 4k recording quality is comparable to cameras that are near the $3000 mark, which is really far from this camera's price.
It is lightweight, has an APS-C sensor, has a flip-up screen and has an external microphone port.
However, bear in mind that if you use a shotgun microphone with this camera, it will cover the flip-up LCD screen and you won't be able to use it.
If you want to use this type of mic, you will need a rig that allows you to set the mic to the side, instead of using the camera's hot shoe.
But overall, its features make it a really good option for vloggers, and there's no way I can't complete this list without it.
Alternatively, the Sony a6500 is also a good alternative with stabilization, but no flip screen.
Read our full review of the Sony a6400.
Sony Alpha 5100 – Best Vlogging Camera for Starters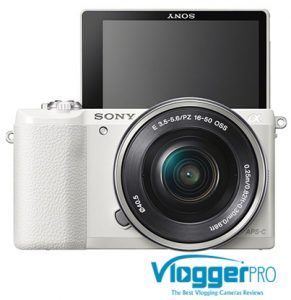 The Sony a5100 is the oldest camera that I can still recommend for vlogging.
This interchangeable-lens camera gets you decent battery life for a mirrorless. It's also lighter, has a touchscreen and you can find it for a price between the X90's and the RX100's.
The Sony a5100 also has a good autofocus for the price, which includes an AF Touch feature. Thanks to its touchscreen, you can change the focusing point in the middle of a video by pressing on its screen.
Finally, you have the option for timelapse recording. This isn't the most essential thing for vlogging, but it gives you more creative options.
It doesn't have an external mic jack, which is not good, but at least the audio isn't so bad so you can still create good videos with it.
If you have bigger budget, then I'd recommend you to get the a6400 since the technology is newer.
Sony DSCHX80 – Best Compact Alternative for Starters
The Sony DSCHX80 is one good Sony flip screen camera with features that are useful for vlogging, but in a friendlier price range.
It can record Full HD video (1080p60), has WiFi, image stabilization and a flip screen.
Since it's much cheaper than the RX100 V, it doesn't match its performance in low light. Its lens doesn't have an aperture widely enough to give you the blurred background effect. This also affects its low-light performance, so it will up its ISO and show noise before the RX100 IV does.
This is only natural since you can get the camera for less than half the RX100's price.
However, if you put its image quality, features and price into consideration, you can see that the camera offers a lot of value to vloggers for a fair price.
It's better to get just what you need instead of buying a fancier camera with features you might not need. That's just what this camera offers, so I can't leave it out of this list.
In all considerations, the Sony DSCHX80 is one of the best Sony cameras for the sole purpose of vlogging.
It is one of the best Sony vlog cameras you can get to start your own YouTube channel.