Stop Thinking About your Camera: 7 More Important Things to Have a Successful YouTube Channel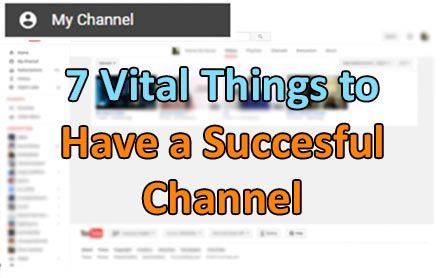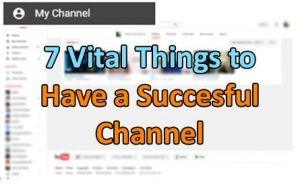 The first thing you need to do when starting a YouTube channel is to stop worrying so much about getting the best camera. There are many things that are more important than that.
We need to ask ourselves, what do all the successful channels have in common? And apply it.
Well, here it is.
1) Having a Passion for Making Videos
It will take a long time to have a successful channel. You will need to be consistent and make a lot of videos.
This is why, if you're not passionate from the start, you already lost.
You will get exhausted after a while if you don't really like it.
And have fun! If you're not fun while creating videos, you're not going to last for long. and it's just probably not for you.
2) Liking your Topics A LOT
You need to choose the main topic of your channel. The best way to build a successful channel is by making it niche.
This means, choosing a particular topic where you can be one of the main gurus.
You will need to like your topics because you will be talking about it a lot.
Nobody likes watching someone who is not passionate about what they talk about.
You can also choose a topic based on your skills. You might know how to do something a lot of people are interested in learning.
Remember this.:
Don't worry about not being that good in that skill; you will always be able to teach people that know less than you.
3) Posting Good Videos Regularly
You should be vlogging at least once every week. This is the only way to encourage people to follow you.
Not only that, but this way you will generate more watched time and YouTube is going to rank your video higher because of that.
The competition is now fiercer than ever, so the more you vlog and publish long videos (around 10 minutes long), the more you will grow.
Making a schedule helps a lot with this, so don't forget to be consistent.
4) Forgetting About Money
Worrying about how much money you will be making can destroy the possibilities of having a successful channel.
You won't become rich in one day from your YouTube channel.
Knowing this and embracing it can free you from the pressure of making money.
Just like the top creators on the platform did. They all began out of passion, when YouTube wasn't considered a business.
However, we've become better at monetizing after these many years.
You can actually start making money much earlier on YouTube if you treat it like a business, start building an email list and creating your own courses for selling.
5) Having a Good Channel Image
This includes having a logo and a banner for your YouTube channel.
When someone likes your video they will probably click on your channel.
If you branding fails to tell them what they can expect from your channel, most people won't find a real reason to subscribe.
They will lose interest pretty quickly after seeing this because they won't believe you'll be posting content constantly.
To get a logo and a banner, I recommend using Fiverr. You can get each for $5.
It's a small investment that will make your channel look much better.
6) Being Yourself and Building a Brand
The best way to build a brand is by giving it a personality.
In this case, your personality will be your brand. Make vlogs the way you like it.
Be crazy in your own way.
Or be relaxed and calm as you normally are, if you're that type (like me).
Or you can even create a fictional character and become him in your videos.
This personality will transfer to your channel and it will make it stand out from the rest.
Every successful channel has a personality, even if it's an entertaining alter-ego that was invented—see Dr. Disrespect.
7) Having Good Sound
This is the only real technical thing you will need to worry about.
The sound of your videos is more important than image quality. Nobody will keep watching a channel that is hard to listen to.
If there's too much noise or echo in your audio, your audience will lose interest.
This is why, when choosing a vlogging camera, you should get one that allows an external microphone. Most built-in microphones are not good for vlogging.
You should also worry about using lighting if you're recording from home. This will improve your image quality drastically.
Conclusion
If you really want to be a vlogger, you won't be thinking about becoming rich with vlogging.
You have to accept the fact that you won't be making any relevant money, in at least 1 year, and probably more.
But this is not what you should be thinking about.
Focus on keep getting content out there, care about your channel and your viewers and do not forget about these 7 essential tips to growing a vlog channel:
Having a Passion for Making Videos
Liking your Topics A LOT
Posting Good Videos Regularly
Forgetting About Money
Having a Good Channel Image
Being Yourself and Building a Brand
Having Good Sound
If you're consistent enough, you can end up being part of the small percentage of people that are making a full-time living with a vlog channel.
You will only have to prove that you are more committed than most people.
Good luck and work hard for what you want!