7 Vlogging Techniques Famous Vloggers Have Mastered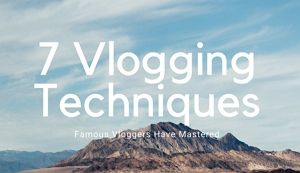 Building a vlog is an ongoing–and often difficult–process.
You want your vlogs to be as high-quality as the professionals and yet still reflect your unique personality.
However, practice makes the master.
These vlogging techniques that others have learned will help kick off your amazing vlog and allow you to increase your followers and increase your audience.
Vlogging Techniques That You Also Need to Master
Tip #1: Designing a Theme
What's the theme of your vlog? What helps it stand out from others in your field? Create a theme that will help decide what the purpose of your vlog is and how you're planning on communicating it to your audience.
This is done by thinking about the entire image of your channel, even its own name.
Your theme can be as simple or complex as you like, but it will help you decide what to vlog about in the future.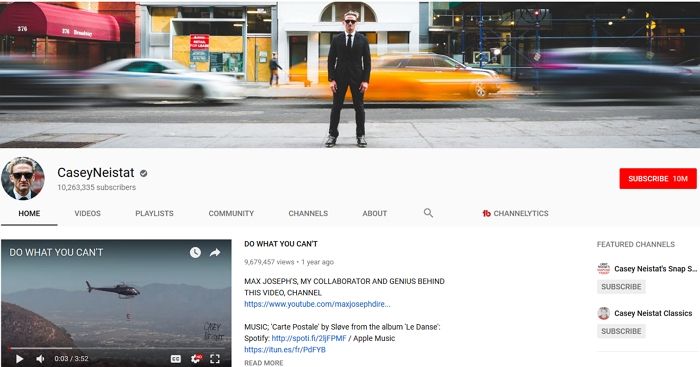 For example, when you enter Casey Neistat's channel, he makes an impact in you with a beautifully composed picture of himself standing on the streets of New York, where he records most of his vlogs.
After that, he introduces his channel by showing an impactful video that is a good example of what his channel is all about: inspiration and telling stories.
Tip #2: Having a Plan
Unscripted vlogging is a great way to show your viewers the natural side of you, but it's also a great way to stammer, stutter, and trip your way through every vlog.
Instead, develop a plan for each episode. While you don't have to have a strict script, you should know:
What the purpose of your vlog is
What you're hoping to accomplish
A basic story arc or outline
When you're going to be done
It's just as important to know how you're going to end your vlog as it is to know how you're going to begin it.
Sometimes, inspiration will occur in a flash of lighting, and you'll change things up.
Other times, however, you'll find that it's much more effective to have an idea of where things are going before you get started.
Tip #3: Developing Confidence on Camera
One of the biggest challenges associated with vlogging is developing the confidence to speak on camera.
Try some of these strategies to improve your confidence and have better vlogging sessions:
Speak clearly and at a reasonable pace.
Observe yourself in front of a mirror. See how your face looks in certain expressions.
Do a trial take. Ask yourself what's missing, then try to put it in.
Limit your number of takes. It's okay for a vlog to have a few elements of personality left in it!
Pay attention to what you do right. You can spend a lot of time tearing yourself down when you watch your vlogs. Try building yourself up instead to help increase your overall confidence.
Tip #4: Paying Attention to Length
As an amateur vlogger, 5-7 minutes at a time in front of the camera is plenty.
Shorter segments are more likely to keep your viewers' attention to the end, while longer segments may leave your viewers falling off around the halfway point.
Try to keep your vlogs under the 10-12 minute mark if you're feeling overwhelmed. You can always upload future vlogs on similar topics.
Once you get more comfortable in front of the camera, you can start recording longer videos. No problemo (as a Spanish native speaker, I always found this phrase hilarious, lo siento).
Tip #5: Knowing Your Equipment
Sure, many successful vloggers are able to get away with minimal equipment.
They may even be able to record highly successful videos on their phones.
If you want your vlog to look truly professional, however, make sure that you have the right equipment. This includes:
A camera that can shoot in HD
Appeal to the widest possible audience. Many of your viewers may put their videos up on televisions and other large screens. Don't let yours be the blurry, out-of-focus video!
Whether you're using your phone or your camera, this is a highly important investment. A tripod stabilizes your camera and ensures that you get a steady picture, not one that's bouncing around and making everyone motion sick.
What you have to say is important, and you want to be sure that you can be heard clearly!
Light boxes and other lighting equipment
It's amazing how much of a difference lighting can make in your overall setup. Take the time to shoot videos under different light conditions until you find the one that fits your needs for your vlog.
Tip #6: Editing Well
If you really want to give a professional look to your videos, it's editing that will give you those final pieces. In editing, make sure that you:
Sharpen audio and/or add music and effects so that your sound is just as crisp as your visual presentation.
Add appropriate visual effects to get the effect that you're looking for. Keep in mind that these effects should, ideally, be in keeping with your vlog.
Add text and logos as needed.
Take out any errors in your presentation. Did you stutter over a word? Struggle to finish a specific segment? Editing is a great time to remove those errors. Make sure that your flow is consistent and that your presentation is interesting throughout.
Editing can be the difference between a vlog that your viewers watch all the way through and one that quickly loses their attention.
This is a complicated process that takes skills.
And that means it takes practice to learn completely.
It's important that you pick one editor and stick with it until you master it because the process varies a lot depending on the software you use.
After a while, you'll notice that you start finishing your videos faster and with better flow and quality.
Tip #7: Making a Habit of Watching Other Vlogs
There are an incredible number of vlogs out there on a wide range of different topics.
Make a habit of watching them and learning from them.
You don't want your vlog to be an exact copy of anyone else's No matter how good they are, they aren't you–and you want to present something that is uniquely your own.
You do, however, want to learn from other vloggers. When you watch a vlog, ask yourself:
What did they do well? How can you learn from it?
Is there something you can adapt from this vlog to make yours better?
What did the vlogger do poorly? How can you learn from that to do better in your own vlogging efforts?
What makes this vlog unique?
Becoming a vlogger is an incredible way to increase your reach and create content that is more likely to spread.
Video content gets more shares and more engagement than many other types of content, including blogging.
In order to make the most of your vlogging efforts, make sure that you're creating clear, professional-looking vlogs that are sure to engage your audience. These simple strategies will improve your vlogging efforts and give you a more professional look that will be sure to help you thrive.